Giro Kicks Into High Gear …
Giro Kicks Into High Gear with Newly Enhanced Website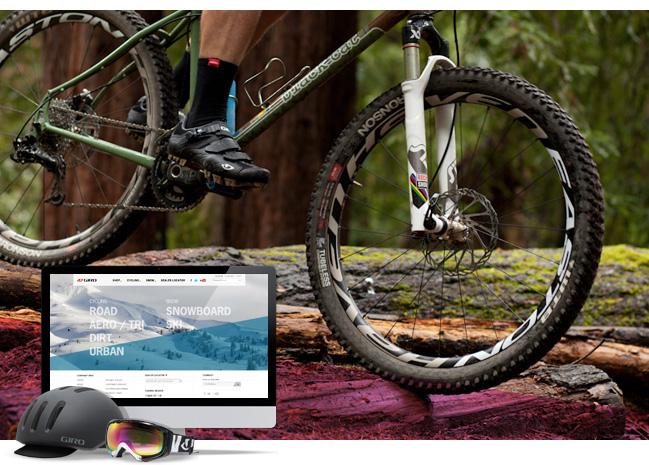 We recently helped high-performance protective gear brand Giro take its eCommerce and web presence to the next level with an updated website and a comprehensive marketing strategy that includes SEO and PPC initiatives. As the action sports brand's "Digital Agency of Record," we will play an ongoing role in expanding Giro's digital marketing to increase eCommerce sales.
The new www.Giro.com is a visually dynamic website designed to optimize consumer engagement and online sales. Our updates include a newly designed homepage, as well as sport-landing, category, and product detail pages. The new website was also enhanced with custom Magento feature implementation, including integration into Wordpress as well as Wordpress CMS customization and implementation.
Moving forward, Cuker will continue to develop Giro's ongoing digital marketing strategies like SEO and PPC, and will expand digital marketing for Giro's sister company Easton Cycling. Giro and Easton both belong to the action sports brand family of Easton-Bell Sports, a worldwide leader in high-performance sports gear with a foundation in technology, aluminum fabrication, and design.
"Giro and Easton are leading brands within the action sports industry that set the bar with their technologically superior and high-performance products," says Cuker CEO Aaron Cuker. "We are proud of Giro's newly enhanced website and look forward to our long-term partnership with both brands."
The partnership with Giro and Easton Cycling is a perfect fit for Cuker, as action sports are a core part of our agency's culture and DNA. Our other clients include action sports brands such as Rip Curl, Quiksilver, and Xterra Wetsuits, and the Cuker team includes avid surfers, cyclists, marathoners, and triathletes.