Branding & Website
Blue Hornet - A Strategic New Look
BlueHornet is one of the premier enterprise email software providers, providing email services for brands such as Allen Edmunds, PacSun, and Microsoft. Among their competition, BlueHornet's strength lies within their strategy services partnering with brands to maximize their results through Email - not just providing software.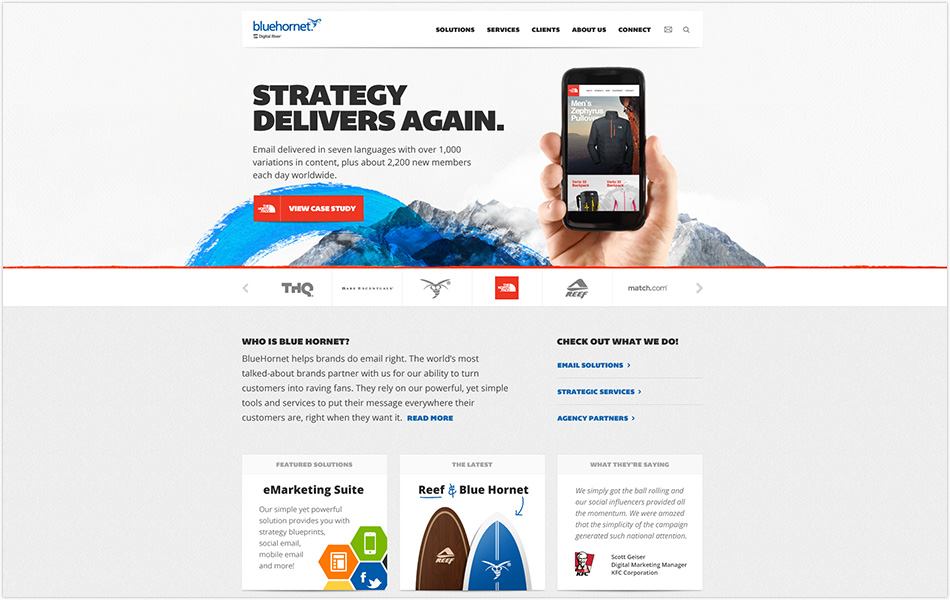 The partnership with Cuker began with the mission to give BlueHornet a unique look to stand out from their competitors, and also to develop a new communication strategy to project the value in BlueHornet's strategy offering. Our brand team went to work developing many options for the new brand image. The client selected a unique approach incorporating brushstrokes and hand drawn elements to support the strategy concept. We then developed strategic messaging to communicate BlueHornet's approach to a business-to-business partnership with their software and strategy offering.
The new brand was rolled out at Shop.org and IRCE trade shows along with a new website design developed by the Cuker team. By improving the brand, the website, and updating the presentation of case studies online, BlueHornet was able to stand out among their competition, attracting new accounts and helping to grow their business.