Website
Dogswell - ARCHIVED: Unleash the Happy
Cuker partnered with premium pet food brand Dogswell to design a new website to support the company's brand update.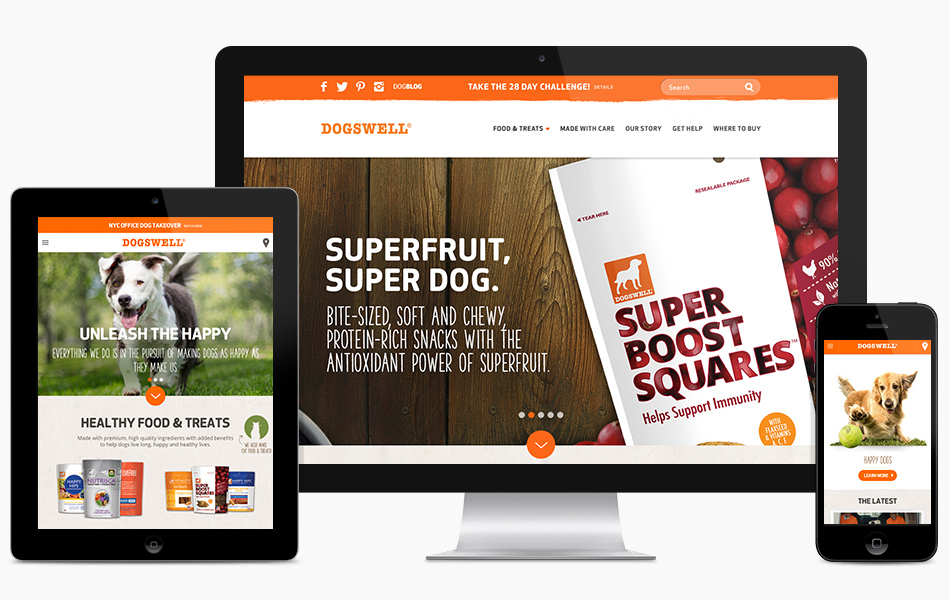 Dogswell is a Los Angeles-based pet brand that creates natural, premium pet food and treats that are free of any corn, wheat, soy or other fillers. The strategic partnership with Cuker will help create awareness for the emerging brand among a larger audience building brand recognition and driving retail sales.
Our partnership started with a digital strategy to re-envision the website's user experience, information architecture, and product merchandising. We also collaboratively developed the vision for the digital storytelling about the Dogswell mission and "Dogifesto." We analyzed the current consumer landscape and identified that consumers are much more conscious today about the products and ingredients that they are feeding their dogs. We developed a design strategy with a balance between emotional and functional messaging, broadcasting the fun and happy aspects of the brand, while also providing consumers with functional information about the products, ingredients, and quality control.
Based on the digital strategy, we designed a fresh, new responsive website that showcases the brand's vibrant photography, branding, and products with custom layouts to elevate the brand story. We created a product selector that allows consumers to find the right food and treats based on their dogs age, size, and preference / allergies / health conditions.
The primary goal of the website is to support retail pull-through in specialty stores and big box retailers, so we created an interactive dealer locator that allows users to filter by product type as well as by location.
The new website was developed on a Content Management System (CMS) that has empowered the Dogswell in-house team to easily post content, manage product merchandising, and launch promotions. The website also includes social media integration and technical SEO best practices.
The website launch effectively communicates the new Dogswell brand and provides an optimal foundation and platform for Dogswell's digital marketing. Dogswell joins a growing roster of clients in the natural food industry for Cuker. At Cuker, our strategists, creatives, and dog-lovers will be passionately working on the account to grow the Dogswell Brand.