Digital Strategy
Rip Curl - Digital strategy.
International Surf and Lifestyle brand, Rip Curl, has developed a successful global retail strategy centered on "bricks and clicks." Cuker partnered with Rip Curl to design the digital communication strategy, and develop the eCommerce business for the iconic surf brand.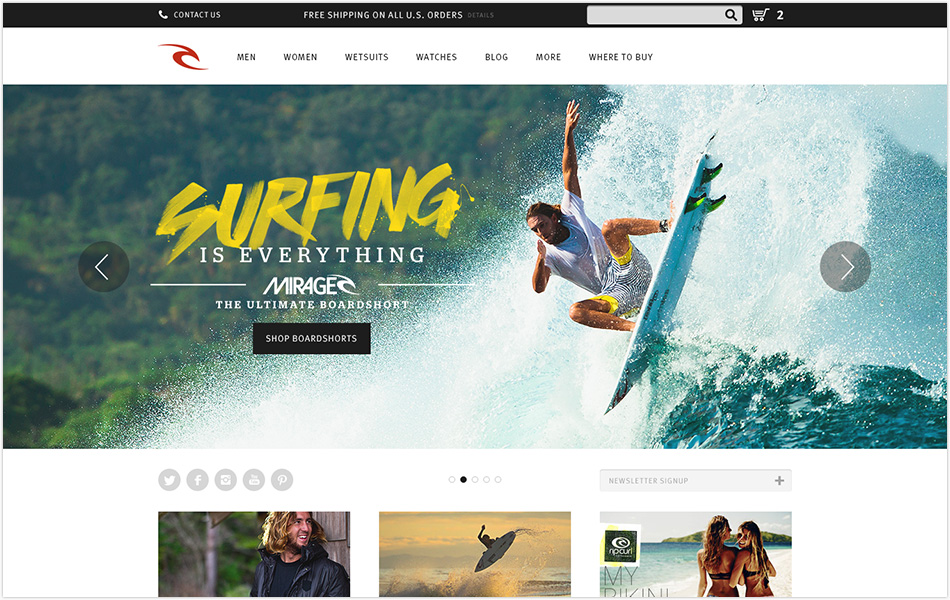 Rip Curl's growing brick and mortar retail presence is now accompanied by a successful eCommerce strategy delivering a premium shopping experience to customers from online to traditional retail.
The partnership with Cuker began with a vision to overcome a big challenge. Some of Rip Curl's top selling products are Wetsuits and Bikinis, 2 types of products that customers typically like to try on before purchasing. To overcome this challenge, we introduced a wetsuit selector to help customers select the right wetsuit and size online. We also focused on lifestyle shots on models for the bikinis so that customers could visualize the right bikini for themselves. We developed the eCommerce store with UX best practices and made an easy and intuitive shopping experience including a mobile optimized website for mobile shoppers. Cuker launched geo-targeted search engine marketing campaigns to grow online sales. We also launched email list growth campaigns that have resulted in a significant increase in email list size. Our most recent exercise with Rip Curl included a design refresh and conversion optimization process where we have improved the user experience by adjusting the navigation and merchandising strategy based on the analytics and user behavior on the website. Cuker has partnered with Rip Curl's international team on the international digital strategy.
The strategic partnership has helped Rip Curl to have a doubling in online sales in the last 2 years, significant email list growth and strong brand delivery on their website. The wetsuit selector and online store is now incorporated into Rip Curl's retail stores providing a digital shopping experience for customers.
Digital Experiences
Digital Marketing
Technology