Conversion Optimization
Silver Oak - Optimizing Website Performance
Cuker partnered with the premier Napa Valley winery, Silver Oak Cellars, to design a new website homepage and navigation, and optimize the website checkout process. The iconic family owned winery was established in 1972 and is known for their deliciously drinkable Cabernet Sauvignon.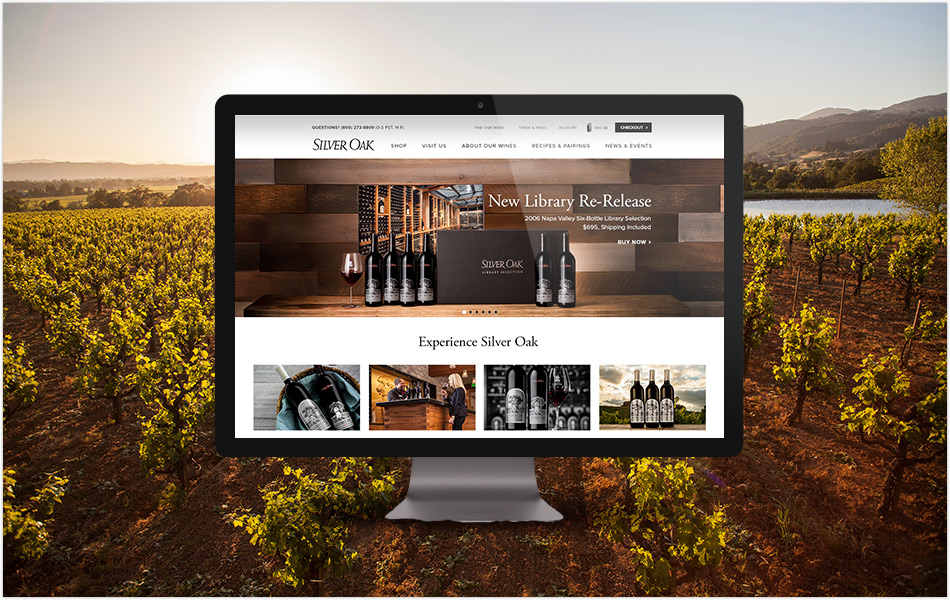 While Silver Oak has built the brand on a rich history of tradition, quality and family values, today's digital era presents new challenges for the brand. Today's digitally connected consumers expect a premium digital experience from all brands- new and legendary. Silver Oak's fans are looking to engage with the brand through digital to learn more about what's happening at the winery, to plan their visit to the winery, and to order wine online.
We partnered with Silver Oak to refresh the homepage content strategy, adding in content about the brand's heritage and philosophy, deepening the content around the experience that you have when you visit the winery, and updating their product merchandising strategy. We integrated a social media campaign into our homepage strategy using #LifeIsACabernet to stimulate social engagement. We also added new messaging about environmental sustainability as this has been a focus for the winery.
We completed a thorough Conversion Rate Optimization (CRO) analysis of the shopping experiences and made strategic improvements to provide a better user experience for Silver Oak shoppers.
The launch of the website updates has significantly improved the brand's presentation and storytelling online and has enhanced the eCommerce experience.