Cuker partnered with Xterra Wetsuits to develop a strategy for digital growth including re-branding, website, eCommerce, and integrated digital marketing.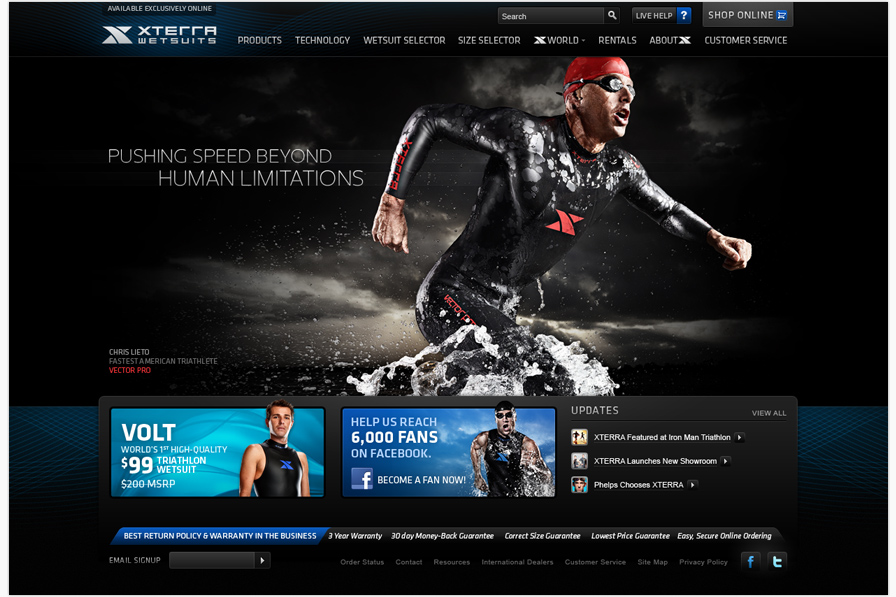 Objectives
Xterra Wetsuits is the country's top triathlon wetsuit manufacturer and sells exclusively online. This unique approach allows Xterra to provide lower prices and higher quality by cutting out the distributer/retailer middleman. However, it creates the challenge of enhancing consumer awareness without the visibility of a retail presence. This hurdle required an aggressive online marketing and advertising plan that would spread brand awareness organically throughout the Web.
Elevating the Brand
Xterra Wetsuits' marketing and advertising was getting flat and stale. The company looked to create a richer and more dramatic look that would captivate their core audience of endurance athletes. We created a refreshed brand image that captures the particular emotions felt by their target consumers during training and racing. We also increased the logo size to make a stronger impact throughout each marketing and advertising touchpoint.
Redefining the Brand Image
The next step was creating a consistent look and feel for Xterra's editorial and product photography. In order to add emotional impact to the product presentation, we shot on location during a stormy, rainy, windy day. We brought in world renowned photographer Tim Tadder, he brought the camera, Mother Nature brought the drama. Controlling the set under these conditions was quite a challenge, but we ended up with amazing photos that were exactly on target with our desired look.
We followed up the editorial shoot with a studio shoot to capture beauty shots of the wetsuits for use on Web and editorial. Using advanced lighting techniques in both shoots, we were able to strongly elevate the presentation of the products.
Making it Easier to Buy Wetsuits Online, With a Custom Xterra Wetsuit Selector.
In the initial discovery session with Xterra, we pinpointed the biggest challenge for customers buying wetsuits online - knowing whether the suit will fit, and selecting the right suit for their type of race. Our solution was to build an interactive wetsuit selector that allows customers to enter their height, weight, and additional preferences. We then deliver specific wetsuit and sizing options that directs the customer to the right suit for their needs.
Technology Sells
Xterra Wetsuit didn't have an effective tool for customer education on their product page technical features. We generated interactive illustrations that visually highlight the important details of their wetsuit's features. The interactive technology feature allows customers to easily understand the product benefits. This sophisticated, interactive functionality has differentiated Xterra Wetsuits from their competition
eCommerce
We also launched an eCommerce store that integrates seamlessly with Xterra's CMS. This allows Xterra to merchandise, cross-sell, and upsell products using just one CMS + E-Commerce software platform. We also integrated the eCommerce platform with Xterra's ERP software for order fulfillment. eCommerce features include a 1-page checkout, user comments, alternate images, related products, social bookmarking, and automated emails.
Content Management
Xterra's old website didn't allow the company to update the content internally, and they were forced to rely on an outside Web developer to perform ongoing maintenance. We empowered Xterra with the ability to update their Web content in-house through an easy-to-use CMS.
Marketing and Advertising For Business Growth
We created a comprehensive advertising and marketing strategy for Xterra that leverages traditional advertising, banner advertising, email marketing, search engine marketing, social media, and other digital touchpoints. The strategy is specifically tailored to support online sales and grow the brand internationally. The integrated campaign has produced significant increases in revenue, conversion rates, and customer acquisition. We work with Xterra on an ongoing basis to deliver fresh ideas for utilizing emerging technologies that will continue to help the company grow their brand and evolve their digital strategy.
Xterra Brand Video
At the launch of their rebranding Xterra decided to go all out and have us concept, create and produce a promotional video that they would featured on their website as well as their various social media outlets.
The Results
The rebranding and restructuring has produced significant increases in revenue, conversion rates and customer acquisition.