Agency Life at Cuker
Experience a day in the life at Cuker and see how we create a culture for success.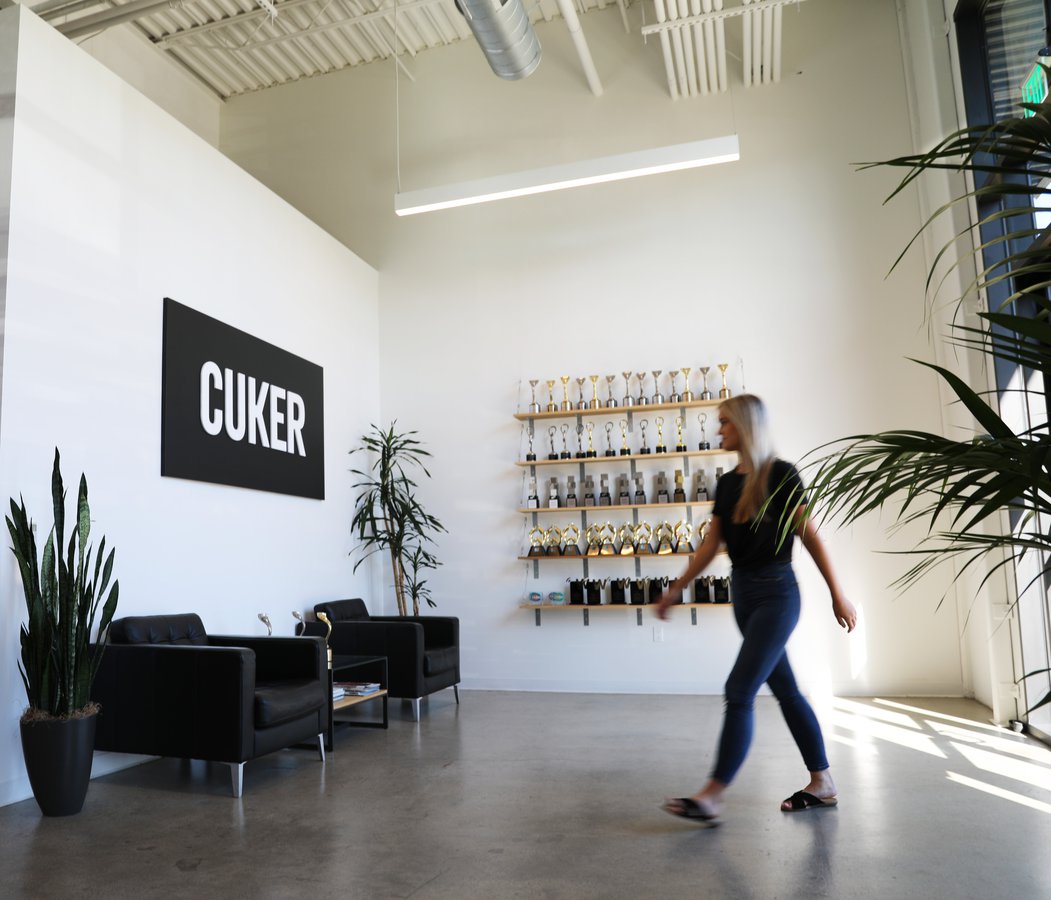 Here at Cuker, we do things differently. Our company culture is built around doing good in the world - whether that's investing in our team members growth, producing quality work for our clients, giving back to our community or doing our part to protect the environment. We pride ourselves on our empowering, supportive and health-driven culture. Here is our version of agency life and how we create a foundation for success each day at Cuker.
A Day in the (Agency) Life
We understand a healthy, energized team is a successful team. This means we try to minimize the crazy late nights to prevent burnout. That way, our minds are kept sharp and creative, allowing us to meet (and exceed!) our high standard for quality of work. Generally, a day at Cuker begins after some team members sneak in an early morning workout or a quick surf sesh. Coffee is a popular first stop at our amazing campus coffee shop before getting down to business. Don't worry though, we make sure to bring our own cups and reusable straws to avoid single-use plastic!
The team begins the day by looking at the tasks at hand and creating a game plan. Mornings consist of bouncing around a few meetings, discussions with clients and tackling our tasks. No two days are ever the same at Cuker. From strategizing marketing campaigns to building out websites for clients, each day brings a unique set of challenges. At the office we are focused, effective and working hard. We emphasize growing our team's expertise and empowering them to do the best work for our clients.
When we're on break we play hard by enjoying the amenities in our campus and the coastal community. Since the Cuker office is only a short walk from the beach, some team members spend lunch on the sand enjoying the San Diego sun. You can catch others sweating it out at our indoor/outdoor campus fitness center. Whether the team is stretching in a yoga class, getting their cardio on at a group fitness session or designing their own workout with the gym's state-of-the-art equipment - the team loves to get their bodies moving. The health of our team is a top priority at Cuker, as we believe a healthy body is a healthy mind.
After lunch, it's back to the hustle and grind at the office. Afternoons are spent powering through meetings, bouncing ideas off of team members and utilizing digital tools to help our clients grow. Our team of strategists, marketers, designers, technologists and data scientists work collectively throughout the day with one goal in mind: to connect brands with customers and drive revenue growth in the digital world. This calls for many brainstorming sessions and collaboration between each department (and multiple coffee runs of course!).
Keepin' it Green
Our team is dedicated to making green efforts to reduce Cuker's impact on the environment. In fact, our office campus at Make was designed with sustainability in mind. This multi-tenant office campus (about 175,000 square feet) was created out of an old warehouse near the ocean in Carlsbad, CA. We think it's pretty great that our home is made from recycled materials! They also offer a ton of amenities that help tenants reduce their personal carbon footprint. For example; Make provides a Shuttle Service that carpools residents to and from popular spots in town. This gives the option to opt out of driving separate cars, saving on carbon emissions. Or, if we want to take an even greener mode of transportation, we can use a beach cruiser from the Bike Share Locker to ride around town.
To cut down Cuker's landfill waste, we've switched almost entirely to a zero-waste workflow. Our beloved coffee maker even helps minimize waste, as it doesn't require single-use plastic pods, like the popular Keurigs do. Plastic water bottles are another absolute no-go here. Instead, we are all proud owners of a Cuker reusable water bottle that we are constantly filling up at our water station. These small actions add up to make a big impact on our environment.
Empowerment, Expertise, and Growth
We want everyone to be their best, and do some of the best work of their career while at Cuker. That's why we focus on empowering our team, providing mentorship and attending conferences and trainings to build expertise. Our team travels to visit our partners at Facebook and Google where they are engaged with emerging technology, best practices and training for growing technical skills. We believe that building strong team members growth the strength of our agency team so we can work together to win for our clients!
Interested in Career Opportunities at Cuker? https://www.cukeragency.com/careers/
Published on .