The Importance of Simplicity in Website Design
Benefits of creating a streamlined digital experience.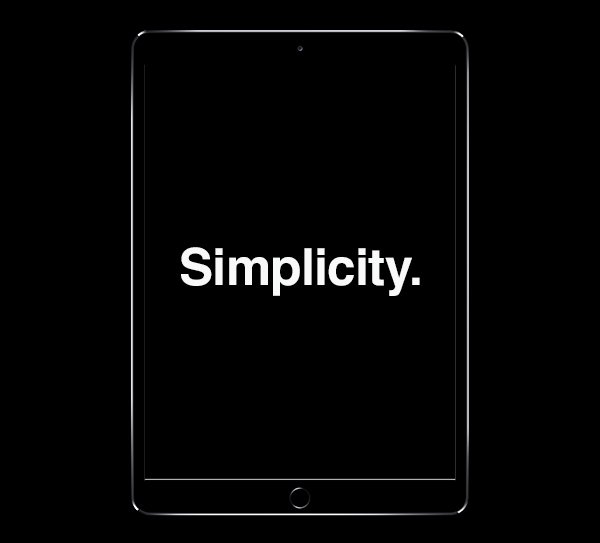 Beauty in Simplicity
Your website is where customers learn about your brand and it's also where your customers go to transact with your business. A great website is both elegant and functional.
The simplicity and ease of use can make or break your website experience. Today's digital consumer is looking to get information and transact when and where they want, from the device of their choice. They expect a streamlined and easy digital experience. Embracing simplicity in website design has many benefits including the following:
Easy to Use
When taking a look at simple websites, you will see they have one thing in common – good navigation. In order to offer users a chance to find whatever they are looking for in a fast and easy fashion, your navigation should be as intuitive as possible. Highlighting important buttons, uncluttering your sidebar, making your text easy to skim and grouping similar pages together are all great ways to simplify your website and make it easy for readers to find what they are looking for.
Fast Page Load
With the population's attention spans at their lowest ever, it's no wonder 53% of website visitors will abandon a webpage if it takes longer than three seconds to load. Cluttering your website up with a ton of images, gifs and videos can drastically slow your loading speed and in turn, detract visitors. By opting for a more simplistic website design, you can reduce your servers workload drastically and ensure your website will load much faster. Videos and large image files take up huge amounts of space to host, and removing them from your website is one of the quickest and easiest ways to improve your website's loading speed.
Mobile
Living in a mobile-first age, it should come as no surprise that the most popular device used to conduct internet searches and to browse websites is the mobile phone. In fact, up to 70% of world-wide web traffic happens on a mobile device. Now more than ever, it's important that your website design is mobile-friendly and the easiest way to achieve that is through an adaptive, simplistic design. Overcrowding your website with images, unnecessary tabs, and extraneous information does not translate well onto a smaller screen so simplifying your website is key to optimizing your site on mobile.
Less Likely to Break, Easier to Maintain
Websites are constantly changing and evolving requiring ongoing maintenance and updates. Whether a bug needs to be fixed or new information needs to be added, the less complicated your website design is, the easier it will be to make and maintain those updates. Simple website design isn't just important for user-friendly navigation and driving conversions, it is also necessary for easy routine maintenance! Plus, simplistic sites with fewer applications, plugins, and elements is less likely to break than more complex designs.
No One Likes Complexity
If someone clicked onto your website, they did so for a specific reason. Most likely, they know exactly what they want to find on your website and, as the website owner, your goal should be to make it as seamless as possible for visitors to find what they are searching for. It's important to not overwhelm your website visitors with a large number of clickable buttons and hyperlinks, images, videos, and gifs as they may get distracted from your call-to-action.
Plus, no one is going to read every word on your website. In order to communicate your message effectively, put the most important information front and center and remove any lesser information someone might otherwise read instead. The best way to ensure visitors will read the information you want them to is by removing any extraneous information and streamline your website.
Good for Accessibility
As Internet usage increases, so does the number of people with disabilities and alternative ways of consuming your content. Every website should include features that make it accessible to as many people as possible and the most efficient way to do this is through a simple design. Without the flashy and complicated features that often prevent users from enjoying your site, a clean design creates a positive experience for everyone. Virgin America is an example of a company who has done this successfully, with their site having been praised as being highly accessible. Their site is clean and simple, with a straightforward call-to-action and navigation tool.
Google Will Reward You (SEO & PPC Quality Score)
Not only is it important for your website to be user-friendly, but also a SEO-friendly. With a simplistic design, search engines will be able to easily crawl through and understand your website, which leads to greater visibility in search engine page results. Fast loading pages, mobile-optimized sites and clean coding are all rewarded by Google and will positively impact your SEO and PPC Quality score.
Your Customers Will Reward You With a Higher Conversion Rate
If you are aiming to increase sales, consider optimizing your website by ridding of any unnecessary details that may distract users from your main conversion points. Study after study has proven that simple website design leads to higher conversion rates than complex websites with excessive information. In fact, flashy websites tend to actually drive away conversions. Simplistic websites allow visitors to easily make purchases without feeling like someone is overselling them something. Apple is a great example of simplicity in website design, and it has shown so effective that countless other businesses have followed suit. However, a minimalist design doesn't mean your website shouldn't contain any eye-catching images, videos or bright colors. Instead, you should use these elements sparingly and in ways that highlight main conversion points like add to cart buttons, forms, email subscription boxes or contact tabs.
Simplicity as a Strategy
It's not always easy to make complex things simple, but working with a talented website design team to embrace simplicity and ease of use in website your design is a winning strategy. By simplifying your website design you can boost conversions, improve user experience, save time and money, and improve SEO rankings!
Published on .