Cuker Participates In CAF Triathlon …
Cuker Participates In CAF Triathlon Challenge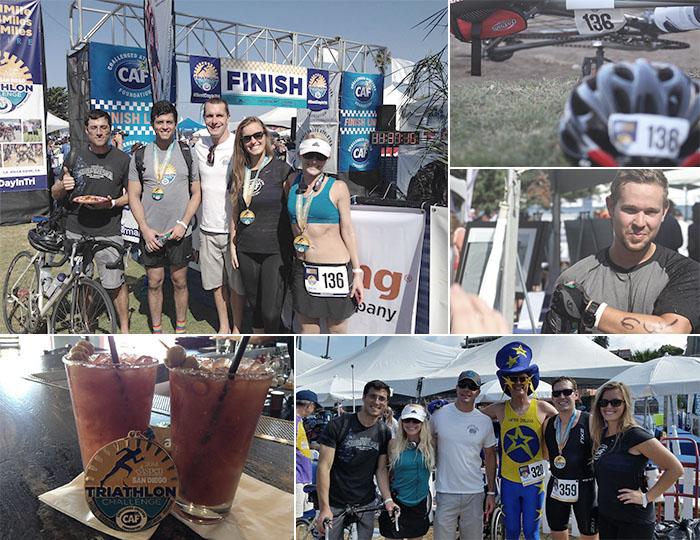 Cuker participated in the Challenged Athletes Foundation's (CAF) Triathlon Challenge on October 19th to raise funds for challenged athletes all around the world. Also known as "The Best Day in Triathlon," the event welcomed more than 5,000 supporters, spectators and participants for its 21st annual Aspen Medical Products San Diego Triathlon Challenge.
This one-of-a-kind event raised $1.18 million in support of CAF, and featured nearly 300 athletes with physical challenges. Around 200 of those challenged athletes participated in the triathlon side-by-side with more than 500 able-bodied athletes.
The "challenge" distance triathlon consisted of a 1-mile swim in the ocean, a 44-mile bike ride, and a 10-mile run. The Cuker team had two relay teams of three people each, and our fearless leader Aaron Cuker completed the full 55-mile journey to the finish line.
"The CAF Triathlon Challenge was the most challenging experience in my life, but it is nothing compared to what many of these athletes have gone through," said Aaron Cuker, CEO of Cuker. "I am so humbled, inspired, and thankful to have been a part of this moving event, and our agency is looking forward to participating again next year."
CAF's mission is to provide opportunities and support to people with physical disabilities so they can pursue active lifestyles through physical fitness and competitive athletics. The San Diego Triathlon Challenge has been instrumental in raising funds that have allowed more than 9,000 challenged athletes around the world to make it to the starting line and inspired a new generation to realize they have no limits.
We'd like to give a special thank you to the Challenged Athletes Foundation and to everyone who helped make this event possible.
About The Challenged Athletes Foundation The Challenged Athletes Foundation® (CAF) is a world leader in helping individuals with physical challenges get involved – and stay involved – in sports. CAF believes that participation in sports at any level increases self-esteem, encourages independence and enhances quality of life. Since 1994 more than $55 million has been raised and 9,500 funding requests from challenged athletes in all 50 states and dozens of countries have been satisfied. Additionally, CAF's outreach efforts reach another 60,000 individuals each year. Whether it's a $2,500 grant for a handcycle, helping underwrite a carbon fiber running foot not covered by insurance, or arranging enthusiastic encouragement from a mentor who has triumphed over a similar challenge, CAF's mission is clear: give those with the desire to live active, athletic lifestyles every opportunity to compete in the sports they love. To learn more, please visit www.challengedathletes.org.