Cuker Wins Best Mobile Blog …
Cuker Wins Best Mobile Blog For Quiksilver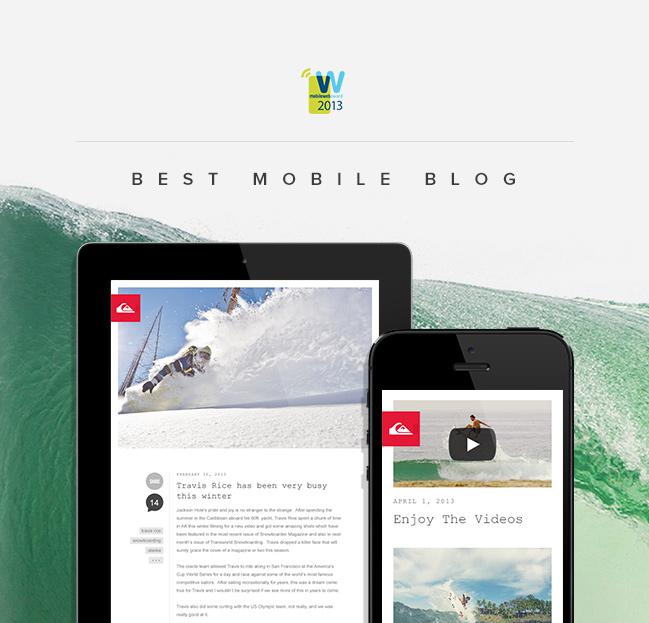 The Quiksilver blog The Mountain & The Wave was just awarded a category-best 2013 Mobile WebAward. Presented by the esteemed Web Marketing Association, The Mtn & The Wave was honored with Best Blog Mobile Website.
The Huntington Beach, Calif. based action sports brand Quiksilver turned to digital agency Cuker to perform a complete overhaul of their blog, The Mtn & The Wave. Cuker redesigned and restructured their blog with a responsive design, delivering a cohesive brand experience to their community across any device.
Quiksilver's award-winning blog has set the standard for all action sports blogs, showcasing visually beautiful images and videos, a progressive layout, and a mobile-first responsive design. Along with features such as categories and social share buttons, Cuker was able to deliver an innovative responsive user experience.
Cuker was also honored with Mobile WebAwards for other top clients, Nixon and Little Giraffe. The microsite promoting Nixon's latest audio product, The Blaster, won Best Electronics Mobile Website, and the Little Giraffe Mobile eCommerce website won Outstanding Mobile Website.
The mobile awards competition was established by the Web Marketing Association to honor excellence in mobile websites, and showcase award-winning mobile development.