Dunlop Tires Revs Up Web …
Dunlop Tires Revs Up Web Presence With New Website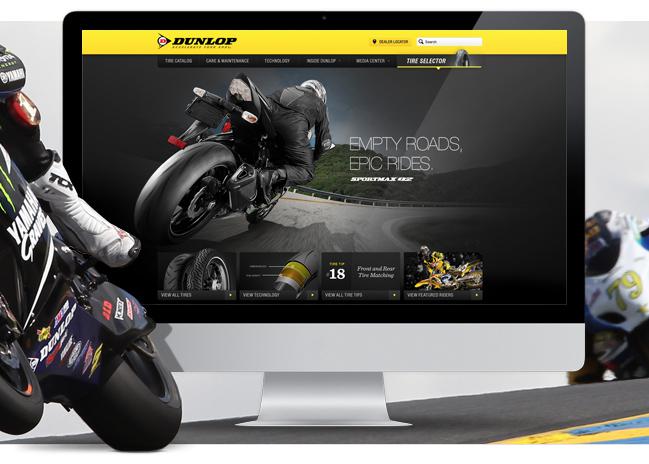 SAN DIEGO, Calif., March 20, 2012 - Premier motorcycle tire manufacturer Dunlop recently partnered with digital design agency Cuker Interactive to launch a new site that showcases Dunlop products and the highlights the company's rich history of motorcycle racing.  The new www.DunlopMotorcycle.com is a best-of-class website that solidifies the company's position as the leader in the global tire industry.
Since Dunlop is the largest maker of motorcycle tires in the U.S., supplying major brands like Harley-Davidson, BMW, and Ducati, the site includes an easy process for tire selection. The interactive fitment guide helps consumers choose the right tire for their particular make and model of bike, while the product detail pages provide comprehensive tire information, with zoom, alternate images, find a retailer, and other powerful merchandising features.
"We designed the Dunlop site to blow away the competition," said Cuker Interactive CEO Aaron Cuker.  "While most sites in this industry are by nature loud and cluttered, we wanted to energize and excite Dunlop customers while still providing the intuitive navigation and easy access to product information that is imperative for online success."
The new www.DunlopMotorcycle.com site was developed with engagement and interactivity in mind.  Both core enthusiasts and new customers can experience the Dunlop brand with a full photo gallery and videos that include viewing controls, an embed link, and full screen mode option.  There's also a dynamic news page, a detailed info center, and technical illustrations that explain the sophisticated technology used to make Dunlop tires.
Since Dunlop is renowned for their extraordinary national and international motorcycle racing success, the site also includes a section dedicated to featured riders, current racing news, the company's racing history, and celebrated racing legends.
About Dunlop Tires:
Dunlop is the largest supplier of original equipment and replacement motorcycle tires in the U.S. and the only manufacturer of motorcycle tires in North America. With North American operations headquartered in Buffalo, NY, Dunlop has been making and selling high-quality tires in the U.S. since 1923.