Eldorado Stone Partners With Cuker …
Eldorado Stone Partners With Cuker On Website Refresh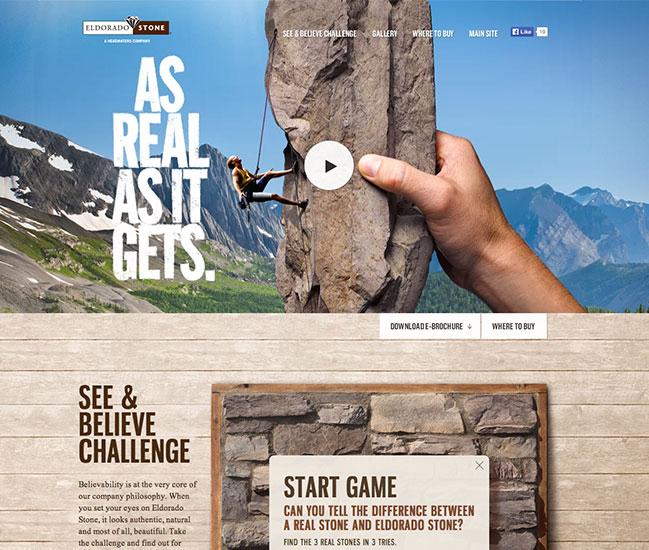 Cuker recently partnered with Eldorado Stone, the leading manufacturer of architectural stone veneer, to provide a strategic update to the brand's award-winning website.
Although Eldorado Stone is world-renowned for their premium stone veneer, the company provides much more than just stone these days. With an expanded line including fireplace surrounds, fire bowls, outdoor kitchens and accessories, the site needed a fresh homepage to showcase the deeper product offering. Cuker also provided strategy, conversion optimization, and updates for website navigation and key content sections.
Cuker designed a clean yet impactful homepage with captivating, full-screen imagery highlighting the look and details of its superior products. The agency also worked to integrate social media into the homepage experience, using imagery from their branded communities in social platforms like Pinterest, Houzze, and YouTube to attract and inspire current and potential customers.
Cuker also partnered with Eldorado to develop the strategy and build the functionality for their concierge program that connects expert Eldorado designers and customer service representatives with their consumers to help them select the right product for their project, and to drive sales through the company's important distribution channel.
With this partnership, Eldorado Stone continues to stay at the forefront in the digital arena compared to their competition, which has helped Eldorado defend their leadership position in their market.
About Eldorado Stone Eldorado Stone, LLC is headquartered in the San Diego area. It is a subsidiary of Headwaters Incorporated (NYSE: HW), a world leader in creating value through innovative advancements in the utilization of natural resources. Eldorado Stone currently operates manufacturing facilities in several states with regional distribution centers across the U.S. For more information and to view a gallery of beautiful installations, visit www.eldoradostone.com.