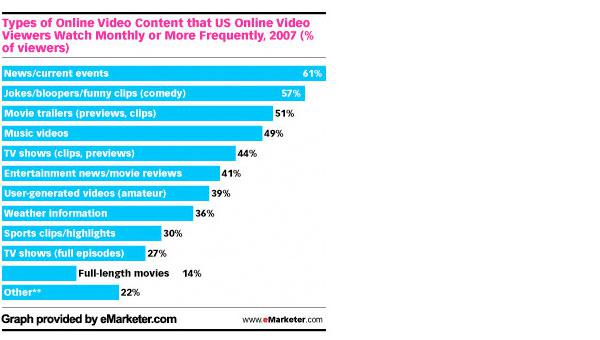 As the focus on innovative, collaborative Web 2.0 technologies continues to expand, so does the demand for targeted, user-generated content geared towards a specific online audience. From sophisticated video sharing to social networking applications, interactive Internet technologies are changing the way people entertain themselves around the world.
Web sites like YouTube with robust content sharing capabilities have seen an exponential growth in traffic and participation as online activity evolves towards creative expression and sharing among users. In July 2006, YouTube revealed that more than 100 million videos were being watched each day and that number is said to have increased dramatically since then.
Senior analyst David Hallerman at industry researcher eMarketer expects to see a complete convergence between television and the Internet in the near future. He also predicts that "online video content will expand in both length and breadth, and professionally-produced material will account for a large part of the menu."
Video sharing websites and other online communities with rich user participation and dynamic content are taking advantage of these trends. Increasingly savvy users know exactly how to search for and find targeted content that interests them, and a growing number of dot TV (.tv) sites such as www.dcskateboarding.tv are able to effectively capitalize by catering their content to a highly-specific audience and create a more streamlined approach for sharing and viewing video.
Successful content sharing sites easily facilitate the sharing of photos, videos, and audio content and foster a sense of participation that encourages users to engage with the brand and with the online community. Right on the heels of the Web 2.0 evolution and the extraordinary popularity of sites like YouTube, video sharing sites like www.dcskateboarding.tv have helped to fuel a growing revolution in online entertainment.