San Diego Daily Deals Site …
San Diego Daily Deals Site Sets Record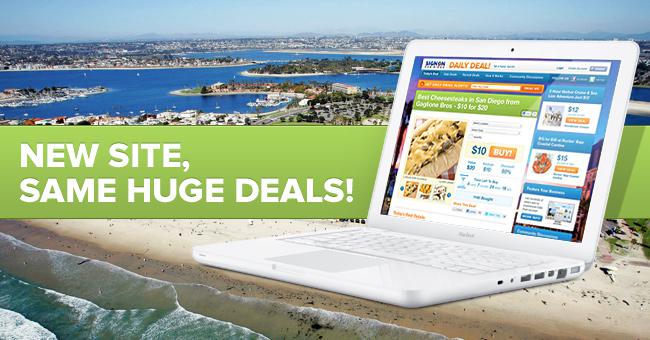 San Diego's leading news site SignOnSanDiego.com recently partnered with digital agency Cuker Interactive to redesign Daily Deals, a service featuring deals of up to 90 percent off of local restaurants, attractions, and services. Located at dailydeal.signonsandiego.com, the program allows users to sign up to receive email notifications for daily deals, share them with friends and family, and earn credits for referral purchases. Since the site launched in March, the Daily Deals site has generated significant revenue, including a record-setting $366,035 through a single offer.
From the beginning, SignOn San Diego wanted a flexible site for local deals that was simple to use and could be easily managed and maintained in-house. The Daily Deals platform was built on the Web Cube CMS software system for easy content management, and includes advanced functionality such as a Facebook Connect login, referral credit capabilities, social media integration, multiple location features, and Google Maps for tracking deal locations.
"It was important to SignOn San Diego that they stand out from other deal-of-the-day sites with a strong local focus and an improved user experience that utilizes a stronger feature set," said Cuker Interactive CEO/Creative Director Aaron Cuker. "We specifically developed the information architecture and user interface (UI) to be intuitive, with a strong design that is visually compelling. The new site allows consumers to quickly and easily find relevant deals that are close to their specific neighborhoods."
The new Daily Deals project is a signature component of SignOn San Diego's efforts to expand their reach beyond traditional media and to develop new revenue sources through digital channels. By combining the latest in interactive technology with their broad influence in the San Diego market, they are positioned to boost visibility while increasing revenues for advertisers and partners.
"Our goal with the Daily Deals site is to own the Daily Deal space locally through strategic partnerships and acquisitions. Our recent acquisition of DiscoverSD provides us an immediate channel for an audience we might not normally attract," says Phil Malavenda, Director of Operations and Business Development "With these sites, we have strengthened our position as both a dominant player in the Web deals arena and the market leader in San Diego."