Pinterest for Brands: 5 Ways to Build a Brand Following on Pinterest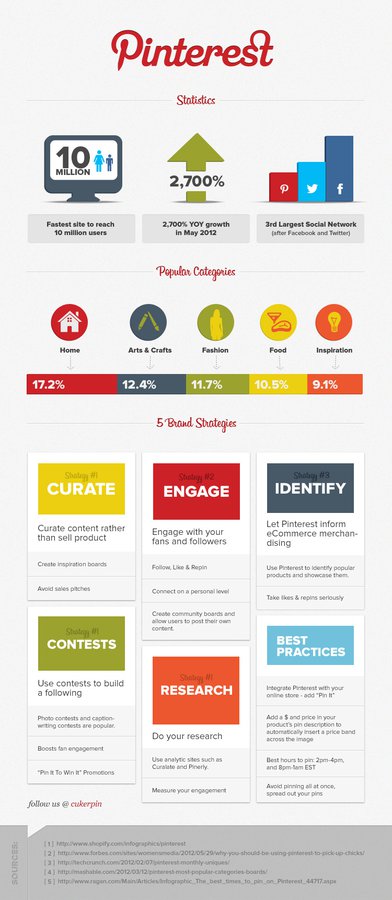 It's official – Pinterest is here to stay. The virtual pinboard for social image sharing is one of the fastest growing websites on the Internet, and consumer and marketer obsession over the social media craze continues to grow. The number of daily Pinterest users has increased by 145% since January. In May, year over year growth for unique visitors was a staggering 2,700%. This growth represents a major opportunity for brands to reach out to consumers in a highly visual and engaging way. Pinterest is a dream for brands in the fashion, beauty, lifestyle, event planning, and design space, especially since 75% of Pinterest followers are women between the ages of 25 and 54.
Additionally, it is the way this demographic uses Pinterest that makes it a homerun for apparel and lifestyle brands. Pinterest users spend an average of 90 minutes per month on the site, as opposed to six minutes on Google +. Pinterest is also a highly expressive medium, where consumers use visual imagery to display their personality, style, wants, and aspirations. Brands using Pinterest should strive to get their pins on the wish lists and dream boards of their followers.
What can brands do to use Pinterest most effectively? Here are five strategies for brands to build their presence and increase consumer engagement on Pinterest:
1) Curate content rather than sell product
As with any social network, consumers are not interested in a sales pitch when they are on Pinterest. Though brands should pin their own products and catalogues, they should also create boards with relevant content that will engage fans on a personal level. Home and furniture brand West Elm has created an authentic Pinterest presence by curating home design boards such as Modernist, Urban Backyards + Outdoor Spaces, and Dream House of the Day, with images pinned from blogs and other websites in addition to their own product line.
2) Engage with your fans
Use Pinterest as a medium for direct, one-on-one interaction with your fans. Brands should regularly monitor fan activity on their boards and follow their fans, respond to their comments, and repin their content when relevant and appropriate. Brands can also provide a forum for fan engagement by creating a community board that allows followers to pin their own content.
3) When appropriate, let Pinterest inform your eCommerce merchandising
Because Pinterest is all about self-expression, a like or repin of one of your products should be considered a personal recommendation. If one of your products is highly popular on Pinterest, try featuring it more prominently in your eCommerce store and let the sales do the talking! Gemvara, maker of customized gemstone jewelry, found that an underselling product in their online store was repinned over and over again on Pinterest. Gemvara decided to showcase the product in their eCommerce site, and continued using Pinterest to identify and display popular products. The results? Pinterest has become the website's top source of referral traffic, with higher conversions than their average site traffic. Gemvara has also seen significant sales attribution from Pinterest.
4) Use contests to build a following
Contests and giveaways are a surefire way to boost fan engagement and build a social community. Many brands are using Pinterest as another contest platform, from photo and caption-writing contests to "Pin It to Win It" promotions. Online home retailer Wayfair utilized a creative scavenger hunt concept on Pinterest, encouraging fans to find and pin specific items from Wayfair.com onto a scavenger hunt board. The results are significant –Wayfair's Pinterest follower base has grown 37%, while Wayfair.com has seen a 107% boost in site conversion and a 48% increase in average order size in just one month.
5) Do Your Research
Though relatively new, there are already a variety of commercial analytics tools on the market for measuring your brand's engagement levels on Pinterest, such as Curalate and Pinerly. And before you've even begun using Pinterest, you can use the URL pinterest.com/source/YOURURL to see if consumers have already been pinning images and products from your website. Check out our infographic above to view more Pinterest fun facts, from trends and insights to best practices for business use of the popular social networking site. And while you're exploring everything that Pinterest has to offer, be sure to follow Cukerpin on Pinterest!
Published on .