Why Video is the Future of Social Media
Accessibility, versatility, and shareability highlight the power of social video marketing.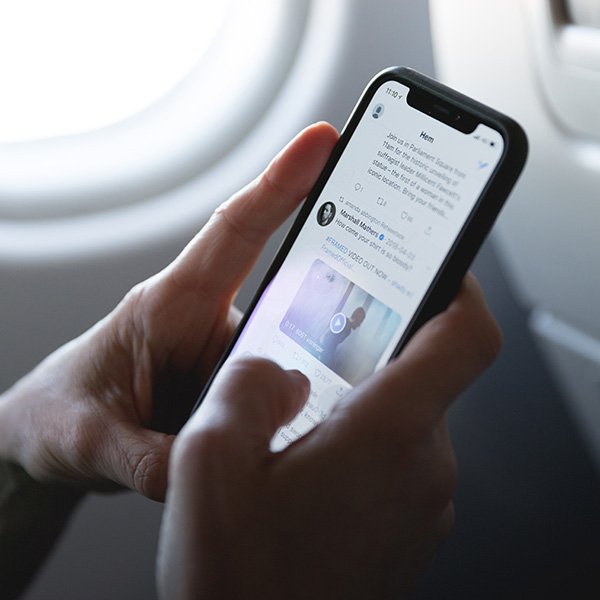 From our mobile phones to laptops, video content has taken over our screens. By 2022, online videos will make up more than 82% of all consumer internet traffic, which is 15 times higher than it was in 2017. It's not too hard to see why video is so popular these days - for one thing, it's an easy-to-understand format that gives our eyes a rest from the infinite amount of textual information online. This would be the reason the world watches over 1 billion hours of YouTube videos a day, more than Netflix and Facebook video combined.
As our media consumption increases, consumer attention spans fall at an alarming rate each year. The average attention span is down from 12 seconds in the year 2000 to 8 seconds today, which is less than the nine-second attention span of a goldfish. Now more than ever, capturing our attention, concentration and focus poses a big challenge for marketers. That's a huge reason video content dominates the social media market, and will continue to as we move further into this digital age.
Video provides marketers with an attractive, versatile, and extremely shareable medium to reach their audiences that is both convenient and entertaining for the viewer. Whether you're trying to promote your products, educate your audience, or build brand awareness, videos offer much more story-telling power than photos and text alone!
Accessibility and Reach
One of the greatest reasons video has had exponential growth is because of its accessibility factor. Almost anyone with access to the internet has the ability to both produce and watch video content. With an estimated 81% of businesses using video as a marketing tool in 2018, video marketing is no longer solely for companies with large budgets. Thanks to Instagram Stories, IGTV, and posting options on social media, incorporating video into your marketing strategy is easier than ever.
The reach of video marketing is shown in the statistics: 82% of Twitter users view video content on the app and almost half (45%) of individuals watch more than an hour of video content on Youtube or Facebook every week. In fact, there are now more than one billion users on YouTube, which makes up nearly one-third of total internet users. Video use isn't just limited to YouTube, either. Facebook has over 8 billion video views per day while Instagram Stories now has 500 million daily active users, and both are only continuing to grow.
Engaging Audiences and Boosting Conversation
While reaching people is easy, keeping their attention is harder than ever. Facebook Live, Instagram Live, Snapchat Stories and Instagram Stories are all efficient ways to capture your audience's attention and drive organic engagement. Whether that's through interactive Q&A sessions, revealing a big announcement, or taking your viewers behind-the-scenes, live streaming is a powerful way to collaborate and interact with your audience in real time. It should come as no surprise that 80% of people would rather watch live video from a brand than read a blog.
Video also continues to thrive through posts on Facebook, Instagram, Snapchat and Twitter. Over the past five years, video remains the best performing post type on Facebook, generating 59% more engagement than other photo types. On Twitter, a video Tweet is 6x more likely to be retweeted than a photo Tweet. As for Instagram, videos receive 38% more engagement than photo posts and 2.1 times the amount of comments. And despite the difficult year in 2018 for Snapchat, video advertisements on the platform continue to receive five times higher click-through rates compared to those of equivalent platforms.
Personal/Brand Awareness
Video is not only fun, it's really one of the most efficient ways to connect with your audience and give them a real glimpse into what you and your business are up to. Brands are constantly evolving, so it is very important to clearly tell your brand story in order to keep your audience connected and attract new viewers - which could potentially lead to loyal customers. Instagram Stories, IGTV, Instagram Live and Facebook Live are all great tools to share complex, in-depth stories that couldn't otherwise be communicated through text or a single photo. There is a reason live video will account for 13% of traffic by 2021. Live streaming has become the connection point between online audiences and businesses that feels personal and authentic. Not only are 91% of consumers likely to reward brands for authenticity and share them with friends and family, but 90% of consumers claim a video will help them make a purchasing decision.
Staying Competitive
Today, there are over 25m brand accounts on Instagram, with 80% of users following at least one. While we are more connected with brands than ever before, the over saturation of content makes it challenging for brands to stand out. In order to remain competitive in your market, leveraging video on social media is crucial to successfully capturing your audience. The addition of IGTV's longer time format allows users to upload videos 10 minutes long and even up to 60 minutes long from a verified account. This feature is being utilized by brands to communicate product features, services, and difficult concepts to viewers through easy-to-digest videos that otherwise, would be confusing to explain through text.
Video is one of the most popular content forms in the world and it's not likely to be going anywhere, anytime soon. And for good reason: in our digital world, we're craving connection and authenticity. The quicker brands leverage the power of video marketing on social media, the sooner they will increase brand awareness, encourage engagement, and boost sales!
Published on .