Digital and Mobile Sales Strong Over Holidays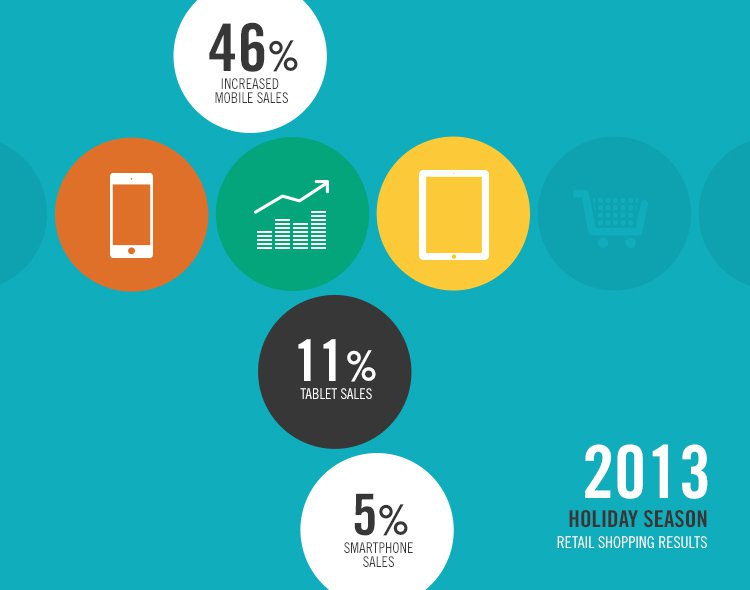 The 2013 holiday season saw large increases in digital and mobile sales transactions. A study by IBM Digital Analytics Benchmark found that online sales during the holiday season were up 10.3% year-over-year.
Mobile accounted for 35% of all online shopping traffic, a 40% increase from 2012. As for mobile sales, they captured 16.6% of all online sales, up more than 46% year-over-year.
While smartphones were the choice for browsing the web, tablets drove actual online sales. Smartphones accounted for 21.3% of all online traffic, almost double that of tablets at 12.8%, while tablets captured 11.5% of online sales compared to smartphones at 5%.
The IBM study also found that department stores drove online sales with a 62.8% increase over 2012, with mobile sales increasing over 49% year-over-year.
U.S. retail spending was up this holiday season by 3.5% compared to last year's holiday season. However, brick-and-mortar retail traffic the week before Christmas dropped more than 21% compared to the prior year's period.
Many shoppers at the mall are skipping the checkout line and buying online instead. 58% of smartphone users use their phones in stores to check prices, but then buy later from an online retailer, like Amazon.
The holiday season started out strong with record number sales on Thanksgiving Day, Black Friday and Cyber Monday. Compared to the previous year, online sales were up 19.7% on Thanksgiving Day, up over 19% on Black Friday, and up 20.6% on Cyber Monday.
The convincing numbers for mobile and digital over the holidays only confirm that mobile shopping isn't the future of digital - it's the present.
Published on .