Digital Shopping Trends for the Holiday Season
Mobile, blogs, and voice search...check out what's new this year.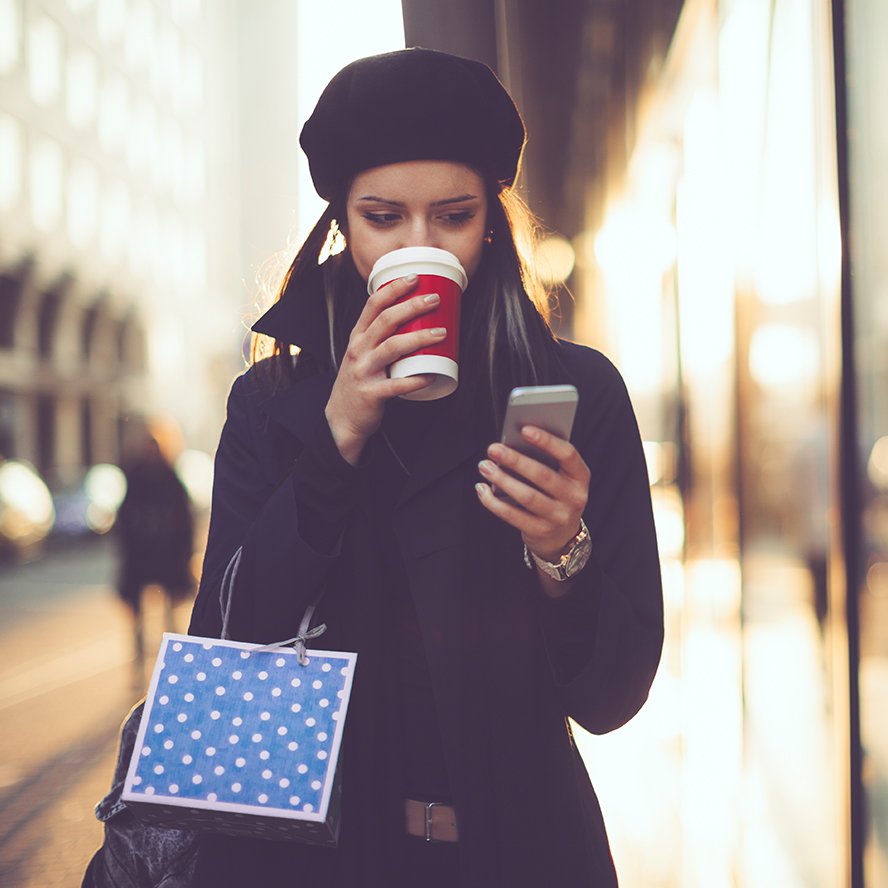 The holidays are around the corner, which means it's time to rev up and fine tune your marketing strategies for the busiest time of the year. As omnichannel shopping trends continue to transform with new technology and higher consumer expectations, marketers are preparing for the rush of the holiday season. After all, Google estimates that US retail eCommerce sales are expected to increase 15.8% during this holiday season. Here are some trends and tips to help you get prepared!
Mobile Shopping Continues to Climb
Hold the phone - could a mobile takeover be around the corner? Mobile shopping is getting more popular and shows no signs of slowing down anytime soon. In fact, according to Adobe, last year mobile accounted for 50% of website visits during the holiday season and 30% of all online sales during that period (Nov. 1 - Dec. 11).
At the end of last year, the number of those shopping from mobile devices during the holiday season increased by 59% compared to the previous year. That number is sure to rise this year.
Shoppers are savvier and rely more on their phones than ever before when comparing products, reading reviews and making purchase decisions on the go. Mobile continues to shift our ideals on retail by posing as a must-have shopping channel for any marketer.
Mobile Payments
The ease of mobile payments has made shopping possible anywhere, anytime. Services like Apple Pay, Amazon Pay and PayPal have made checking out on mobile easier and faster than ever before.
Having mobile payment services like these implemented on your site allows the customer to check out without having to fill out their personal/shipping information and credit card information. It provides a seamless, secure and reliable way of purchasing on the go - drawing in new mobile visitors and ultimately turning them into customers.
The future for mobile payments continues to look more advanced, through concepts like biometrics, for example. Visa suggests that the ability to authenticate a payment via fingerprint, eye scan or voice recognition may increase digital payment conversion rates in the future.
Email on Mobile
Not surprisingly, email is a huge driver of holiday sales, as it's one of the main modes of alerting customers to holiday deals. Out of all emails landing in inboxes every day, 54% are opened on a mobile device. The time spent crafting catchy subject lines and pretty graphics will go to waste if your email is not optimized for mobile or your site is not responsive. Make sure your emails work on both Apple and Android devices, and all links are properly tagged to successfully track your holiday campaigns on mobile.
Mobile Shopping Apps
According to recent data, nearly two out of three consumers have mobile shopping apps on their phones, and just as many (66%) have actually made a purchase through a mobile app.
Shopping through apps makes it easier to access things like recently viewed items, previous searches and saved payment/shipping information. As more individuals see the value in this, it's important to evaluate the opportunity to partner with popular apps in your specific industry (i.e. for fashion and apparel, check out Polyvore, JackThreads, Gilt and Rue La La) or if you already have an app presence, make sure it is optimized and your product information is up-to-date.
Amazon Takes the (Fruit)Cake Online
Amazon continues to grow and revolutionize online shopping, accounting for approximately 60% of all online sales. They have been extremely successful in capturing a loyal customer base through their Prime membership and competitive prices. Not to mention expedited shipping and excellent customer service make them a force to be reckoned with. Slice Intelligence suggests that these elements helped Amazon capture nearly half of holiday online sales last year.
With the option for same-day delivery and free shipping, it's no wonder that 66% of frequent online shoppers have used Prime in the past year. Customers who have purchased from Amazon take their expectations elsewhere online, expecting free, fast and trackable shipping.
Whether their products are available on Amazon or not, brands will be competing in some sense with the eCommerce giant for a slice of the holiday revenue pie. Standing out and differentiating your product offer from Amazon can be tricky, but doable. Some ideas include curating your content, creating a more personalized shopping experience and keeping prices lower or equivalent to that of Amazon's.
Influencers Drive Holiday Sales
There's no denying the power of influencers in motivating purchase decisions and creating brand awareness these days. As more brands incorporate influencer programs into their marketing strategy, the holidays call for a heavier focus on this successful channel.
YouTube
YouTube influencers are special in that they've garnered loyal viewers as well as followers. These viewers are keen on knowing every aspect of the YouTuber's life, and feel a deep connection to them - resulting in trust and admiration that a photo on Instagram, for example, cannot always replicate.
Every holiday season, viewers tune in to videos by their favorite YouTubers featuring gift ideas, wish lists, Black Friday/Cyber Monday hauls and product reviews. It's a way to get inspiration for gifts, see what items are popular, and browse the items directly via links in the video's description box (if the YouTuber includes them). Check out this video as an example.
Brands are partnering with these famous YouTubers and even sponsoring posts by gifting them certain items to feature in the video. Many will offer the YouTuber a discount code to share with his or her viewers in order to drive sales and better track how many people are converting from the YouTuber's code.
In an age where video is growing and increasing engagement with a brand, YouTube is becoming a gold mine for brands partnering with the right influencers.
YouTube just announced that they'll be rolling out vertical videos on its mobile app, which means it will be easier for individuals to film video on their phone and even upload saved content from Snapchat and Instagram (without those ugly black bars on the side).
This opens doors to influencers on other social platforms who may not have the expensive camera equipment to shoot videos, but who want an evergreen place to store the videos they share with their followers.
Blogs
The rise of blog influencers has been sparked by affiliate programs like RewardStyle that measure and monetize the influence of content that bloggers post.
This provides the blogger and/or social influencer with a cut of the sales, as well as exposure and increased sales for the brand.
The power of blog influencers was very apparent when Nordstrom recently ran their Anniversary Sale. If you type in "blogger Nordstrom Anniversary sale" to Google, watch as hundreds of bloggers show up in the results page. Here's an example of one of them. By partnering with influential bloggers, Nordstrom was able to raise awareness about the sale online as well as encourage foot traffic to its stores.
Shareable Content Boosts Engagement
In an age where a video can go viral within an hour and a tweet can be re-tweeted by hundreds of thousands of people, it's apparent that shareable content is becoming an extremely popular way for brands to reach more consumers and boost engagement organically. Shareable content includes but is not limited to:
Social media posts - a photo, video, tweet, status, story, inspiration board, GIF, location, you name it.
Referral codes - i.e. "Refer a friend using this code and receive 20% off your next order!"
Influencer codes - Codes that influencers share with their following to receive discounts on items.
In-store incentives - i.e. "Take a photo with this holiday display and tag @companyname for a chance to win a $500 shopping spree!"
Contests - These are popular on social media; i.e. "Post a video to your Instagram telling us what's on your wishlist this holiday season using hashtag #mywishlist for a chance to win a cruise to Mexico!"
Giveaways - Many brands are hosting giveaways on their social channels and partnering with complementary brands to increase engagement, boost follower count and raise awareness. Most giveaways require tagging a friend or two on the post as one of the rules. Here's an example.
Optimizing Your Online Shopping Experience Online
We expect a lot from the brands we buy from, so much so that our purchase decisions depend on it. If your brand isn't responsive across platforms (web, social media, phone) then you're in for a rude awakening this holiday season. Consumers look for a personalized experience when shopping, and if it falls short of their expectations, expect them to turn elsewhere.
Here are some ways brands can personalize and improve the customer's experience:
Rewarding loyal customers with special discounts/promo codes
Offering free shipping and returns
Offering expedited shipping options and same-day delivery
Providing the option for click and collect (if you have brick and mortar locations)
Responding to customer inquiries/feedback right away
Including a note or surprise gift in customers' packages
Asking for feedback and valuing their opinion
Free Shipping is a Top Factor in Online Sales
According to a recent survey done by Walker Sands, 81% of respondents reported free shipping as a primary motivator for doing more of their shopping online. The second motivator was speed, with respondents reporting next day shipping (40%), same day shipping (39%) and two hour or less shipping (27%) would make them shop online more frequently.
Free and fast shipping are extremely valuable during the holidays when gift-buyers are in a time crunch and looking to maximize on savings.
Customer Service
Successful brands are responsive to customer inquiries, shipping issues, product experience and delivery. Responding in a timely manner and making the customer feel as though they are important and being listened to are key in creating a highly personalized experience.
This starts with having your customer service team ready and able to respond in a timely and respectable manner to any and all inquiries and comments. This is vital during the holidays, as well as year-round since customers will move on if they receive no response. Maintaining a conversation with the customer and answering their questions instantly, whether it's on the phone or your company's Facebook Messenger, creates a personal experience that not every brand can achieve.
Artificial Intelligence (AI)
Don't have the squad to do the job? Chatbots are a subset of AI that are becoming more popular as ways of communicating with online visitors and assisting with general online questions. Chatbots run on natural language processing and respond to questions in a conversational manner, whether it be on a chat interface, interactive widget or mobile wallet. They can even act as a personal shopper by recommending similar products, locations where that product may be available, and complimentary items to complete an order.
If you can't stop thinking about it, just buy it, right? Dynamic remarketing ads (another form of AI) can help with this, by serving as a visual reminder of the items you were potentially thinking about buying. These types of ads perform better than traditional remarketing ads since dynamic ads are more personalized - only serving up ads relevant to the interests or recent product/content views of an online visitor. With 49% of users visiting 2-4 websites before converting, this type of re-engagement encourages top-of-mind awareness and an extra push even after a visitor leaves your site.
Voice Search
Half of U.S. teens and 41% of U.S. adults use voice search daily, through AI like Siri, Cortana, Alexa and Google Assistant. Those numbers continue to grow as more people rely on digital and realize how much faster a voice search can be over opening up a browser and typing out a search.
Voice-based queries differ from text searches in that they are usually made up of longer phrases and complete sentences and questions. AI technology is constantly evolving in an effort to break down the intent of the user and the context of their search, considering things like location and what they purchased in the past.
Optimizing for voice search is different than text search from an SEO perspective. Preparing for more long-tail keywords and conversational language should be taken into consideration. For example, someone looking to buy a black pair of pants might type "women's black pants size 8" into a search box while a voice search may be something like "Where can I find black pants in size 8 near me?"
As voice search continues to evolve and streamline its processes to become more interactive, marketers should pay attention to the potential opportunity in capturing the tech-savvy shopper through this channel.
Takeaways
The holidays should be enjoyable for both the shopper and marketer. Keeping up with the ever-evolving trends in digital marketing, eCommerce and shopping as a whole is vital to a brand's success.
Based on the trends discussed above, here's your holiday marketing checklist:
Optimize your mobile presence - your site, payments, ads, email, and app (if you have one).
Keep an eye on Amazon - make sure you control your brand presence on Amazon and stay up-to-date on what they're doing to capture opportunities.
Consider implementing an influencer program if you haven't already - people flock to YouTube and blogs for holiday gift inspiration.
Create content that people can share - whether it's on social media, in the store or online.
Make your customer feel valued and appreciated by offering a personalized experience.
Prepare your customer service and social media teams to be able to support immediate responses.
For last-minute shoppers, make sure to communicate when a purchase needs to be made in order to be delivered in time (i.e. by Christmas Eve).
The holidays are on the way. By implementing these tips now and staying in tune with the trends, you'll be ready to take on the busiest time of year with plenty of cheer.
Published on .