This Year's Digital Holiday Shopping Trends
New digital trends help retailers keep the holiday season merry & bright for consumers.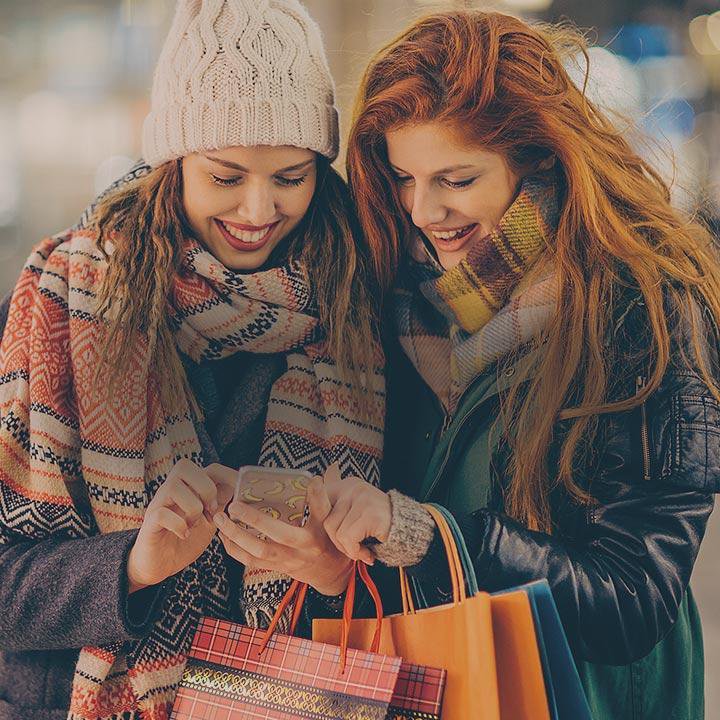 With eCommerce this holiday expected to increase nearly 10% over last year, there's up to $117 billion potentially up for grabs this season - so it's critical for online retailers to understand the latest in digital trends and to offer an optimized, seamless experience for shoppers across every device.
Let's take a look at a few holiday trends that will help define success during this critical shopping period.
Brick-and-Mortar and Digital
The trend continues where more customers are choosing to shop on digital instead of brick and mortar retail.
It's safe to say that traditional brick-and-mortar retail has seen better times. There has been a technological revolution brought about by the smartphone that has accelerated the shift from in-store to online.
The convenience of mobile shopping has given consumers the chance to cut back in-store visits, and has accelerated the shift to eCommerce. According to eMarketer, eCommerce grew an impressive 13.4% last year while retail sales grew only 1.7%, making it the slowest growth rate in the past eight years.
The adoption of online shopping is accelerating at a rapid rate. So far this year 51% of purchases were made on the web, compared with 48% in 2015 and 47% in 2014. And it appears that millennials are helping to drive the shift to online purchases. According to reports, 54% of millennials have made more purchases online than in stores compared to 49% made by other generations.
According to the National Retail Federation, last year more Americans shopped online than at stores over the Black Friday weekend, making it the first time eCommerce shoppers outnumbered brick-and-mortar customers during the biggest shopping period of the year. This number is expected to grow even more this year.
Mobile is a Must
Smartphone traffic now leads desktop as customers are getting more and more comfortable making purchases from the convenience of their phone.
Whether you're buying at the store or online, mobile devices have become our trusted holiday shopping assistant. They offer unlimited on-the-go access to retail websites, email promotions, product reviews, and gift ideas. And according to MarketingLand, 2015 was the first year that consumers have done more shopping on mobile than on desktop, with this trend expecting to continue.
The mobile momentum is showing no signs of slowing down. Currently, 56% of all website traffic is coming through a mobile device. As consumers are turning to mobile to compare products and make purchases, brands need to give them the best experience possible.
Consumers shopping online are looking for convenience, particularly during the frenzied holiday period. An optimized mobile website with lightning fast load speeds and a promotion-focused responsive email marketing campaign are essentials for a strong holiday season online.
More Shoppers Prefer Amazon
The growing dominance of Amazon cannot be overstated - or overlooked.
Amazon continues to take its leading position as the top online retailer in the US and will likely have an impact on consumer expectations and shopping habits this holiday. This year, 42% of online shoppers in the US will make Amazon their primary holiday gift buying destination.
In the final quarter of last year's holiday season, Amazon saw a 24.1% increase in sales over the previous year. The retail giant also signed up more than three million Amazon Prime subscriptions in just the third week of December. According to reports, Amazon's dominance will only continue to grow.
In addition to having an easy-to-use interface, Amazon's two-day shipping attracts a lot of consumers, especially during the critical holiday period. Shoppers have been increasingly turning to Amazon first to make purchases. In fact, research has found that 55% of online shoppers begin their product searches on Amazon, edging out search engines such as Google and Yahoo.
Social Influencers
Word-of-mouth continues to be a leading factor in purchase decisions.
More and more consumers are turning to social media to inform their purchase decisions. For this reason, influencer marketing has become one of the most effective ways to reach audiences through social media. From product awareness to brand building, marketers are finding influencers to be an important part of their overall digital marketing mix.
This year's holiday shopping season is no exception. Influencers open up a new realm of possibilities for brands to connect with consumers organically. How? Through simple word-of-mouth. Influencer marketing presents a huge opportunity for brands to leverage the power of word-of-mouth through personalities that consumers follow and admire. According to a recent poll, 92% of people trust recommendations from individuals over brands.
Spending Thanksgiving with Family
More companies are jumping on board - promoting work/life balance can raise brand affinity within your audience as well as team morale.
Last year, sporting goods retailer REI announced its decision to remain closed on Thanksgiving Day and Black Friday with their universally praised #OptOutside campaign, giving employees time to spend with family and to explore the outdoors.
Recently, Mall of America joined a growing list of employers who have announced that they would be closing their doors on Thanksgiving Day in favor of giving employees time off.
Mobile Payments
New mobile payment options like Apple Pay, Pay with Amazon and Google Wallet are making it easier to check out on mobile devices.
Mobile payment adoption is quickly rising, and the growing number of mobile payment solutions entering the market is already changing the way consumers shop online. Apple Pay, Android Pay, Amazon Payments, and PayPal are some of the platforms currently available.
The ease of use, added convenience, and heightened security are some of the reasons why more and more shoppers are turning to mobile payments. Research indicates that 39% of all mobile users in the US made a mobile payment in 2015, and this number is expected to grow this year.
The busy holiday season is a huge gift for retailers - and not just in revenue. The big jump in traffic during this time is also a great opportunity to widen a brand's customer base, grow retargeting lists, strengthen customer loyalty, further personalization on site, and expand social media communities. Paying close attention to recent digital trends will help online retailers ensure that the holiday season stays merry and bright this year.
Need help with your Digital Marketing Strategy? Let's Talk
Published on .