Klaviyo's IPO
Klaviyo, one of the leading marketing automation platforms, just went public. Learn more about its IPO debut and what the future holds for the company.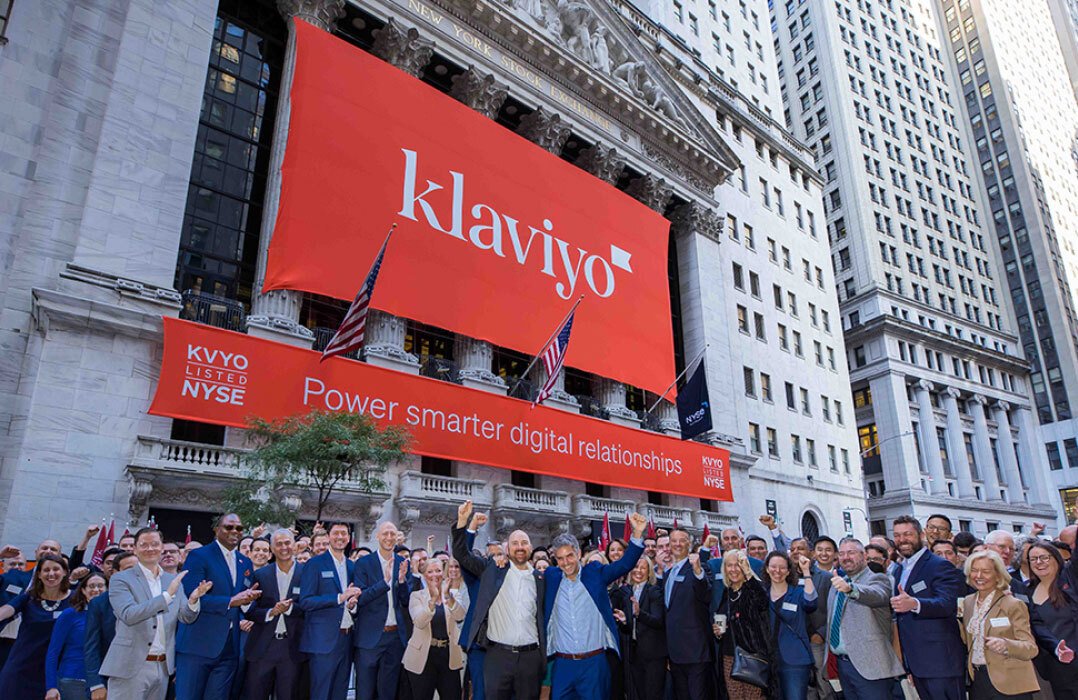 The recent buzz in the digital marketing world is Klaviyo's Initial Public Offering (IPO). With a successful debut on the NYSE and a stock price above the expected range, Klaviyo has garnered significant attention from investors and industry experts alike.
Klaviyo: The Company Overview
Klaivyo is a Boston-based technology company that provides a marketing automation platform used primarily for email marketing, SMS marketing, and push notifications. Founded in 2012 by Andrew Bialecki and Ed Hallen, Klaviyo's modern and intuitive SaaS platform enables business users to capture, store, analyze, and predictively use their own data to drive measurable, high-value outcomes. Over 130,000 businesses leverage Klaviyo and its 300+ integrations to acquire, engage, and retain customers.
The Path to IPO
For a software company, Klaviyo had an untraditional start. They waited until they surpassed $1 million in revenue and were profitable before taking a $1.5 million seed investment from a local VC firm. Because of this, the co-founders retained big stakes in Klaviyo - Bialecki owns 38.1% of equity, while Hallen has a 13.9% stake.
The fast-growing company raised $320 million in May 2021, doubling its valuation to $9.5 billion. In August 2022, Klaviyo received a $100 million strategic investment from Shopify. As part of the partnership, Shopify announced that Klaviyo will serve as the recommended email solution partner for Shopify's premium merchant plan, Shopify Plus, while granting Klaviyo early access to in-development Shopify features. Klaviyo raised a total of $455 million in outside financing when it filed for an IPO in May 2023.
Highlights of Klaviyo's NYSE Debut
On September 20, 2023, eleven years after its founding, Klaviyo became a publicly traded company.
The stock opened at $36.75, well above the initial price of $30 per share.
Klaviyo's shares jumped nearly 23%, helping the marketing automation firm notch a valuation of $11.3 billion.
The stock closed at $32.76, a 9% gain over its first trading day.
The stock rose 2.9% the following day to $33.72.
What's Next for Klaviyo?
With a successful IPO launch behind them, Klaviyo now faces the challenge of meeting and exceeding the high expectations set by investors. The company's leadership will need to navigate the competitive landscape and continue to innovate and grow. With a recent repositioning as an intelligent marketing automation and customer data platform, Klaviyo's goal is to make it easy for businesses to centralize and use every piece of their customer data. Going beyond just an email or CRM provider, Klaviyo is aiming to be the one central source for all customer data. With a partnership effective through 2029, we will continue to see exclusive Shopify capabilities and features launched via Klaviyo. Integrations will continue to be a key aspect of Klaviyo's business. With recent integrations with Amazon's Buy with Prime, Square, and Toast, Klaviyo will continue adding platforms to make it even easier for its users to centralize all their customer data. We should also expect to see Klaviyo expand across verticals. With an initial focus on eCommerce, Klaviyo is starting to branch out into other categories, like the wellness space. Tailored specifically for fitness studios, salons, and other client-based services, Klaviyo for Wellness provides key integrations to help businesses effectively engage clients, build lasting relationships, and accelerate growth in the digital age.
Final Thoughts
Klaviyo's successful IPO marks a significant moment in the company's history and the eCommerce and marketing automation industry as a whole. As Klaviyo's stock continues to trade on the public market, it will be exciting to watch how the company capitalizes on its newfound resources to shape the future of data-driven marketing. With the eCommerce industry showing no signs of slowing down, Klaviyo's journey from a Boston startup to a publicly traded company shows the power of innovation and the potential for growth.
Published on .