Navigating the Digital Era: OMMA LA Keynote Recap
Cuker CEO talks about digital marketing, the changing look of retail, and brand building.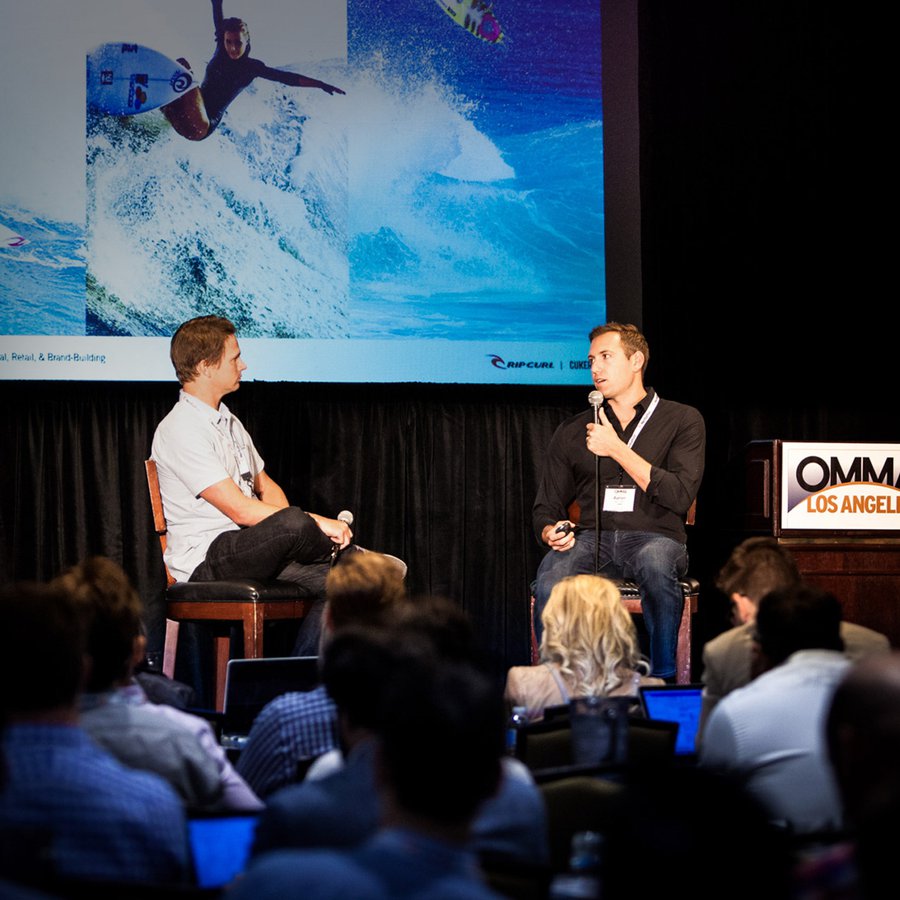 At this year's OMMA LA conference, our CEO Aaron Cuker delivered a keynote presentation with Rip Curl's SVP of Sales and Marketing, Dylan Slater. The keynote titled "Navigating the Digital Era - Mobile, Digital, Retail & Brand-Building" addressed this new phase in Rip Curl's business as they evolve for the digital age.
The Ultimate Surf Company
Rip Curl has grown to be one of top global surf brands since it was founded in 1969 in Torquay, Australia. Known as the ultimate surfing company, the brand prides itself on making innovative products for surfers by surfers. Dylan Slater has been a visionary within Rip Curl, working with their US and global teams to navigate the new digital era.
The Digital Era
Rip Curl has been faced with the challenge of navigating a new digital era while staying true to their foundational brand principles. At a time where new digital mediums provide consumers with limitless options on-demand, Rip Curl is competing for a new audience that has lower attention spans, higher expectations, and unlimited access to information online.
Tides Change for Retail
Brick-and-mortar stores play an important role in consumer shopping, including the convenience of taking a product home immediately after purchase, the chance to speak to product experts, and a place for customers to touch, feel, and experience products firsthand. Rip Curl has stayed committed to building their own brick-and-mortar stores and supporting specialty retail shops as they continue to be a foundational part of the brand's success.
However, with the exception of Rip Curl's branded stores, the past several years have been considerably difficult for many retail shops. The surf industry has certainly felt this impact with several big box retailers and large, national chains declaring bankruptcy. A big contributing factor to this shift is the effect of mobile devices and eCommerce websites on consumer purchase habits. While others are paralyzed by this shift, Rip Curl took it head on. With web and mobile traffic up at ripcurl.com, the next logical step for the brand was to refocus their attention to their website by delivering an elevated customer experience and creating a foundation for the digital brand.
Website for a New Digital Era
Today, nearly every consumer entering a store is carrying a smartphone. The connectivity of these devices offers unparalleled access to a huge network of information that is readily available 24/7. Mobile devices have become a quintessential part of our daily routine. According to MarketingLand, people are spending a daily average of 3-8 hours a day on their smartphones. We access our phones so frequently that consumers now expect websites to be easy to use and mobile-friendly, and 29% of smartphone users will switch to another site or app if it doesn't satisfy their need.
Smartphones have had a huge impact on the way consumers discover, research, and make purchases. The advancements in mobile device technology have given consumers high expectations when it comes to a brand's online experience. Consumers are constantly collecting information through desktop computers, mobile devices, and tablets that brands really need to be accessible during these pivotal micro-moments.
Rip Curl, in partnership with Cuker, recently launched a new mobile responsive website focused on speed and performance. The new website was optimized to enhance mobile eCommerce, deliver a seamless customer experience, and support brand marketing while staying true to the iconic surf brand's 47-year legacy.
Driving Social Media
People spend nearly 20% of total time online on social platforms. Facebook alone makes up 14% of total time spent online. To engage their core audience through social media, Rip Curl has made a huge push through high-quality content and storytelling to take their audience on a visual journey of their brand and sponsored athletes.
Recommendations and word-of-mouth, especially through social media, can be one the most powerful marketing tools for brands across any vertical. Rip Curl has the benefit of sponsoring some of the surfing industry's top athletes that have promoted the brand in a natural, authentic way. As our partnership with Rip Curl continues to grow and evolve, we are working together on new, authentic ways to drive commerce from social.
Analytics Drives Strategy
The new digital era offers an endless supply of data to help brands understand their customers in a deeper and more meaningful way. This includes analyzing purchase habits, seasonal trends, preferences, and backgrounds to understand customers and their needs. With this information on hand, brands can better understand what consumers like to buy, how they search, and what influences their behaviors.
By working with and managing Rip Curl's data and analytics, we've been able to discover new product opportunities, improve merchandising, and increase revenue, ultimately delivering a better customer experience on the website.
Premium Experience
Rip Curl has seen huge success in increasing awareness, driving sales from new customers, and differentiating themselves from other brands. By providing their audience with a seamless experience across all touchpoints, Rip Curl has been able to generate year-over-year growth without having to discount their products. We have found that customers choose to shop from ripcurl.com for a number of reasons, including positive past experiences, ease of navigation, simplified checkout process, product reviews, low shipping costs, fast site speed, and quality of products.
Results
Rip Curl has been quick to meet the needs of its increasingly mobile audience. Already, the mobile responsive site has generated positive results. After the responsive update, we've seen:
48% increase in digital revenue
5x increase in mobile conversion rate
20% increase in ROAs from digital marketing
Next Steps
As our partnership with Rip Curl grows and evolves, we will continue to re-envision the customer experience through personalization and the delivery of a premium customer experience across all touchpoints.
One of our next challenges is to incorporate an omnichannel experience across channels, enabling Rip Curl customers to shop at their convenience - any time, anywhere. By integrating and aligning channels, a successful omnichannel retail strategy provides a seamless shopping experience to consumers, regardless of whether the customer walks into a store, browses the web, or purchases via a mobile phone.
If you missed our keynote, you can watch it here.
Published on .