DC Shoes Launches Video Site
DC Shoes Launches Video Site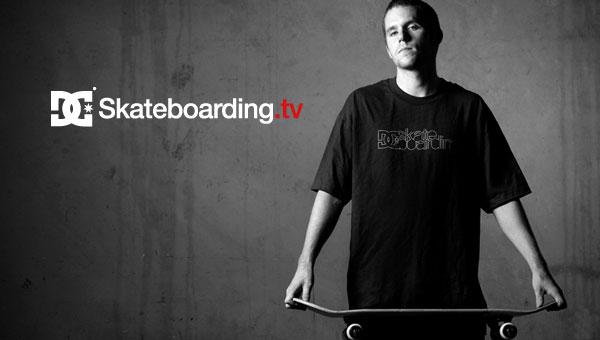 Pioneering skate company DC Shoes recently launched www.dcskateboarding.tv, a new website created by Cuker Design that takes a fresh approach to viewing skateboarding videos, photos and news from the team. The innovative new site has up-to-date information on DC's team tours, exclusive video footage, and the latest skate happenings around the globe - all presented in a clean and easy-to-navigate layout.
The extensive photo section of the new site features a gallery of albums that can be viewed in large format, high-resolution images that don't require a lengthy load time. The photos are continuously updated and give viewers the opportunity to see these influential pro skaters presented through an artistic lens as they dominate in their natural environment.
The new DC blog provides another portal for accessing the team of skaters, where topics vary from Euro tour clips to classic old-school videos of Danny Way. The RSS feeds give subscribers up-to-the-minute updates of recent video posts, original photos, and new blog entries. The DC skate podcast is now even available in the iTunes store.
All videos are downloadable and can be embedded into a viewer's personal blog, Myspace account, or website. Some videos are particularly extensive, running up to 20 minutes long with behind-the-scenes documentation of skate contests and team trips from 2007. This massive amount of video content provides a more comprehensive yet streamlined video experience where users only need to visit one site to see their favorite skaters pulling off incredible tricks.
Aaron Cuker, Creative Director for Cuker Design, notes that "more and more companies are now considering dot TV (.tv) sites to create a more streamlined approach for sharing and viewing video. The entire site is video-centric, an all-video, all-the-time platform for the user that doesn't need their experience diluted by lots of ads, text, or other kinds of content."
Cuker also notes that this evolution is already starting to impact online search trends. "There is a growing transition from using only Google or the other big search engines for Internet searches," he points out. "People are now going straight to YouTube to search for instructional video, how-to tutorials, industry trends, and other types of information. Basically, YouTube is no longer used solely for entertainment - there is an evolving mindset that it can be a great tool for retrieving all kinds of information that can be easily delivered through video."
The statistics certainly support the claim of explosive growth in video search. In the first quarter of 2008, YouTube has already attracted 75% more visitors than last year at this time, according to Compete.com. Sites with advanced content sharing abilities such as www.DCskateboarding.tv are watching their popularity skyrocket as the demand for online video sharing grows and Web 2.0 trends improve the user experience.
The sleek yet non-conforming look and feel of the DC Skateboarding site combined with the advanced video technology captures the trailblazing spirit of the team and solidifies their reputation as one of the most respected names in skateboarding.