X-1 Breaks Barriers of Sound …
X-1 Breaks Barriers of Sound with Innovative Rebranding + Website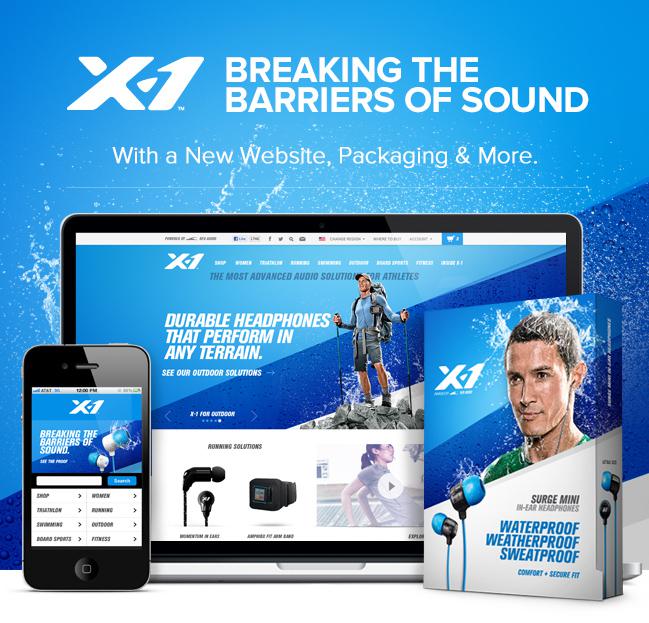 H2O Audio, the most trusted brand in waterproof audio solutions for swimmers and aquatic athletes, recently turned to digital design agency Cuker to create a new brand name and identity. The rebranding of H2O Audio to X-1 included a fresh website, new packaging, and brand video production. The new X-1.com is user-friendly and showcases X-1's innovative product line and brand standards.
Together, Cuker and H2O Audio worked to identify a new market position for H2O Audio's innovative waterproof technology. After conducting extensive marketing research, Cuker saw the opportunity to expand the product line beyond the water sports industry, offering audio solutions for running, fitness, board sports, and other outdoor sports. The new brand, inspired by Bell X-1, the first aircraft to break the sound barrier, was born. X-1, Powered by H2O Audio is breaking the barriers of sound by bringing the most advanced waterproof, weatherproof and sweatproof headphones to all athletes to let the music be their fuel.
Cuker's rebranding of X-1 included a new brand name, logo, tagline, and brand standards. Cuker also redesigned X-1's packaging, produced brand videos, and developed a brand for X-1's new product line X-1 for Women, a line of headphones built specifically for female athletes. This line was designed to fit smaller ears and provide ambient noise and reflective safety features.
The new X-1.com site has a fresh look allowing users to easily navigate merchandise, featuring products clearly categorized by sport as well as a mobile optimized homepage. Cuker also designed an interactive product selector to help consumers choose a custom, personalized audio solution for their sport, based on gender, fit, sport, waterproof requirements, and price/performance.
"We designed the X-1 site to create the ultimate online destination for athletes seeking audio solutions," said Cuker CEO Aaron Cuker. "The new website showcases X-1's fresh brand identity, and offers users a powerful recommendation engine through the new product selector."