Rethinking the Customer Journey for the Digital Age
How people browse, select, and shop has changed forever.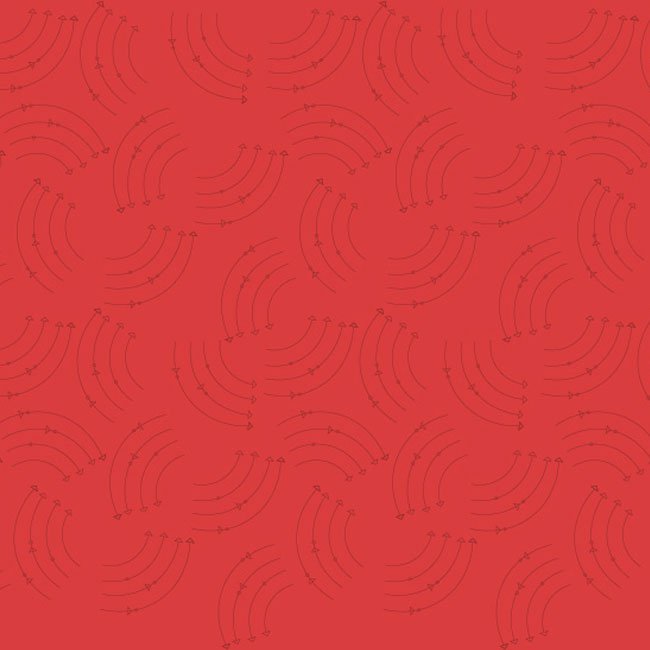 The Digital Age has ushered in a new era in commerce and digital branding, as well as a new set of customer expectations. How and when we shop, make purchasing decisions, and engage with brands has completely changed.
In the era of traditional advertising, marketing messages were delivered in a one-way communication through TV and print to a passive audience. A manufactured message was delivered to a broad audience, hoping to create mindshare with potential customers.
In the digital era, the passive customer has been replaced with an active, engaged customer. Your manufactured marketing message is now only one factor in a customer's perception of your brand. With digital, the customer can instantly find information about your product, reviews, service, company mission, and actions. Through social media, two-way communication and engagement between customers and brands is now expected.
This new era has reshaped the customer journey and our expectations of the brands.
Cultivating Customers Instead of Selling Products
Before we go further on the customer journey, let's start by re-aligning goals in the digital era.
While navigating the shift to a digitally focused brand marketing strategy creates challenges, there are awesome new opportunities.
One of the biggest opportunities for brand marketers in the new digital landscape is the possibility of building a closer, more personalized, more engaged relationship with customers. The brands and retailers that are adapting and thriving in the digital era are growing massive customer lists with powerful software driving retention strategies. Once they've acquired a new customer, they are putting in place sophisticated strategies to grow lifetime customer value (LCV) by driving repeat purchases.
So before we reshape the customer journey we need to shift our goals to "cultivating customers" instead of "selling products". As a marketer today, it's important to understand your LCV and the long-term value of acquiring a new customer and nurturing long-term loyalty with a customer. Digital marketing has gotten extremely competitive, but with the right model and approach, it is possible to grow a massive, loyal customer list that helps create a long-term, predictable and profitable digital business.
Example of Sales Focused Model vs. Customer Focused Model:
The Customer Journey Has Changed
Building a large base of customers and brand loyalists is huge opportunity. This requires a new approach to marketing across the customer journey to acquire new customers and retain existing customers. The factors that influence a purchase decision and brand affinity have changed which requires us to rethink the "customer funnel".
The old thinking of a funnel was a one directional illustration of the consumer's buying process from awareness to consideration to purchase. Marketers would invest heavily in advertising to drive more brand impressions during the awareness phase than competition, for a better chance of a customer purchasing with your brand.
But the new customer journey for a digitally focused brand works differently. Customers are influenced by a broader set of factors:
Your brand message
Your company's actions
Your brands' social media
Your Brand Ambassadors' social media
Customer reviews
Digital word-of-mouth
Technical product information
Your web experience across mobile and desktop devices
The customer post-purchase experience
Awareness
When marketing to acquire new customers, it's important to have a strong presence through the channels where your customers are beginning their journey online. Often this is a combination of display, search, and endemic media. However, there is still a hangover from the old days where advertisers often over-indexed on media spend in this area of the customer journey, spending more than required to try to generate awareness.
In today's era, it's important to:
Evaluate all the different ways to generate awareness. For example, inspiring someone on social media recommending your product, generating 'digital word of mouth', presence on third party websites, and more.
Diversify the budget and attention across the entire customer journey instead of overloading this first phase.
Manage your brand's impression across the digital touchpoint in the awareness phase. Customers narrow down their brand selection to move to the next phase based on the impression they get, setting up expectations for the rest of their journey – first impressions last a lifetime.
Consideration
In this phase of the customer journey, users have narrowed down their choice to fewer brands. They are responding to your website – ease of use across devices, speed, content, feeling. They are reading customer reviews. They are reviewing your social media. They are reading technical product information. They are watching videos on YouTube to see how your product works.
As the consumer has become more digitally engaged, there is a higher level of expectations for the experience across digital touchpoints. Managing your brand's digital footprint is essential for acquiring new customers in the digital age. It's also important to understand that these first two phases can happen very quickly due to the speed and access to information through mobile and digital.
Purchase
If you've done a good job of the first two phases, you're adding customers.
It's important to analyze your customers' purchase behavior to optimize this critical phase where you can add or lose a customer in an instant.
How do they like to buy? Do many of your customers have a preference of using PayPal or Amazon? Many customers will move through your website and social during consideration but then leave and purchase through Amazon.
Promos – Many marketers are using discounts and promotions drive purchases. It's become common place online that many customers expect to be able to find a discount if they are buying online. It's important to evaluate your promo strategy and find the right strategy for your brand and industry.
Delivery – Understand what your customers are looking for out of the delivery phase. Is free shipping expected in your industry? Does your delivery process need to be customized to support a better experience? Do many of your customers prefer in-store pick up? If your delivery cost and offering is off the mark, you can be losing a lot of customers, right at that point when they're ready to transact.
Enjoy & Advocate
Customers respond to the experience you're delivering. It's important to evaluate the customer's experience and look for extra touches from packaging to email followups to helpful support articles. Looking for creative ways to use digital to support the customer's experience with your product can also set your brand apart and drive loyalty.
If you have a great customer experience and you encourage your customers to share it, you'll inspire an ongoing flow of reviews and digital word of mouth content. This is the best form of marketing back out to new customers. It's free, it's real, and it's effective.
Bond
Customers like to be able to trust a brand. When a customer has bonded with a brand, it's hard to break that bond.
Loyalty Loop
Once you have created a bond with customers, they will repeat purchase without going through the earlier decision journey phases.
However, continuing your engagement with existing customers to keep them purchasing requires marketing. If you're out of sight, you're out of mind.
As brands and retailers get more effective with digital, they are putting in place sophisticated retention strategies to deliver personalized marketing to existing customers. You can continue to build and strengthen your bond with customers by personalizing the marketing and offerings and providing exclusive promotions.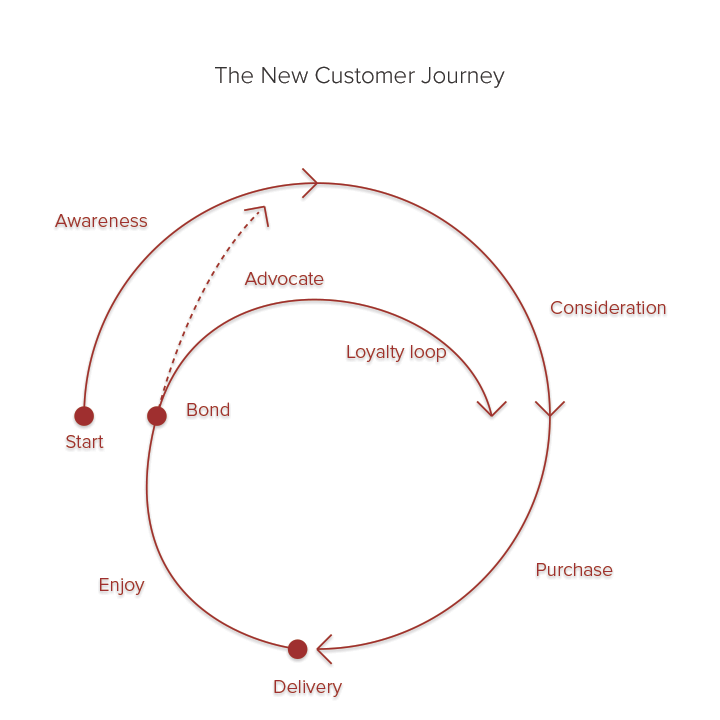 Starting
Adapting to the new customer journey takes analysis, strategy, time, and investment. It doesn't happen overnight. It takes time to transition. And along the way, you'll learn a lot about how your customers respond to your new approaches.
We help brands navigate this transition to become a digitally focused brand. It's a marathon, not a sprint. So it's important to spread out this effort with achievable milestones, driving progress each step of the way.
While change brings challenge, it also brings great opportunity. Many brands are adapting and thriving in the digital era and others are stagnating and eventually will become obsolete. By embracing digital, you can be on the winning side of this shift, find ways to edge out competition, deliver new experiences, and create a closer, long-term connection with your customers.
Published on .