Twitter's Super Bowl Touchdown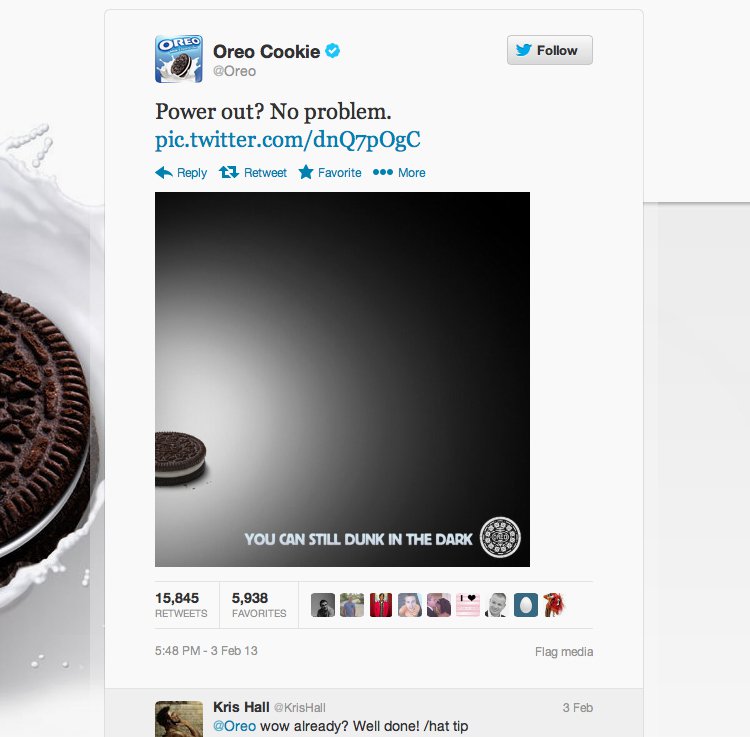 The football battle between the Ravens and 49ers, Beyonce's sexy half-time show, and a freak power outage combined to generate a record 24.1 million posts on Twitter during Sunday night's Super Bowl XLVII. That's up from 13.7 million last year, and doesn't even include the buzz surrounding the commercials.
The most notable tweets occurred during the stadium blackout at the Mercedes-Benz Superdome. This real-time marketing showcased brands that were quick on their feet, and joined in the trending social conversation surrounding the blackout.
From an Oreo tweet receiving over 15,000 retweets to Calvin Klein embracing the hottest new trend on Twitter by sharing a Vine video, the following are the top five brands that embraced those 34 minutes in the dark:
1) Oreo Cookie: "Power Out? No Problem" along with a picture of a cookie with the text "You can still dunk in the dark."
2) Tide: "We can't get your #blackout, but we can get your stains out."
3) Audi: "Sending some LEDs to the @MBUSA Superdome right now…"
4) Calvin Klein: "Since the lights are still out…" accompanied by a Vine of a muscular man doing sit-ups.
5) Jim Beam: "FYI - This #superbowl blackout is sponsored by #JimBeam Black."
Published on .