The Top Grocery eCommerce Platforms in the U.S.
From Instacart to Amazon Fresh, how we shop for groceries is changing forever.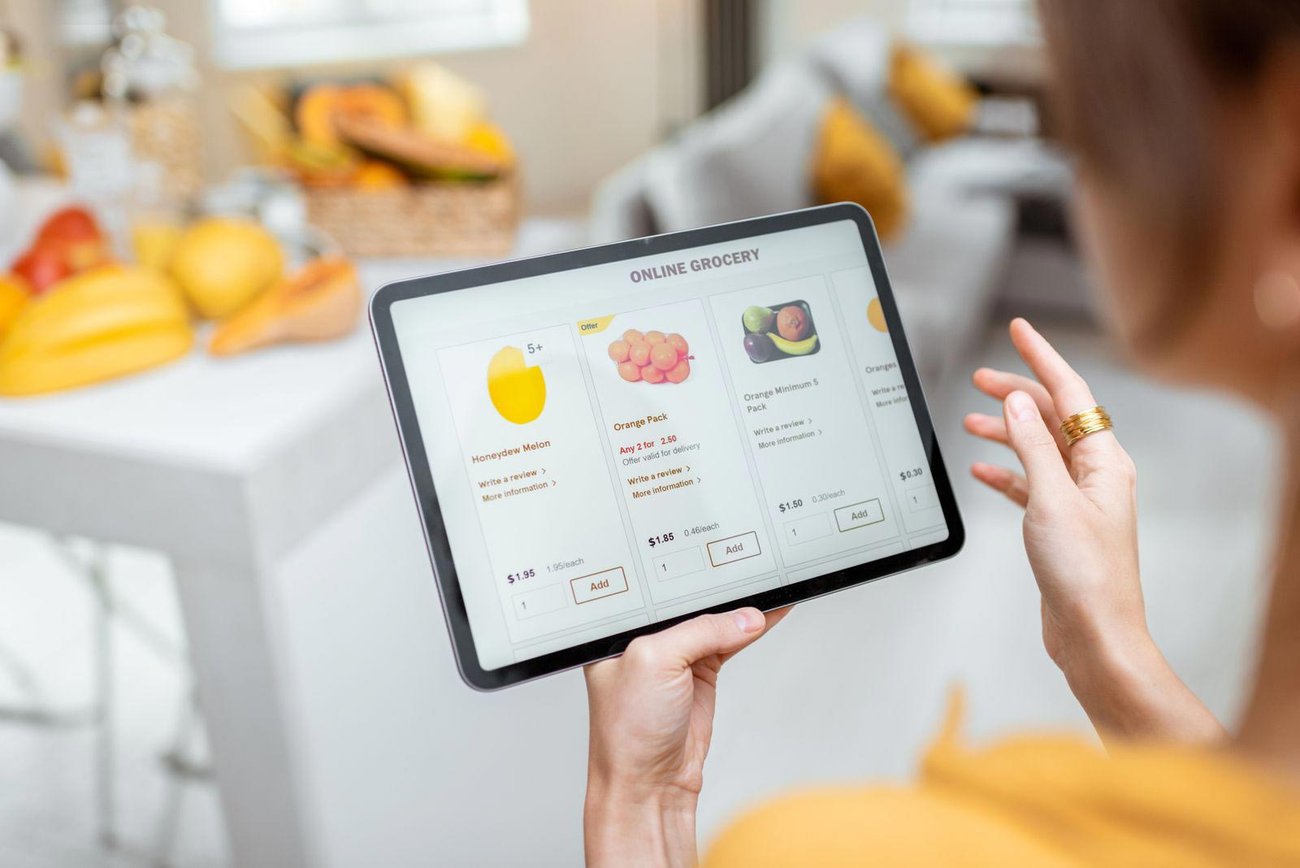 Since COVID-19 emerged in early 2020, the global pandemic had a profound effect on our way of life and accelerated the shift to eCommerce – and nowhere is that more evident than in the grocery category. During the pandemic, millions of US consumers loaded up their carts and shopped online for the first time. The pandemic made shoppers search for a safe and convenient way to get the products they needed without venturing into grocery stores, possibly exposing themselves to the virus. In 2020, online grocery sales soared 54%, reaching over $95 billion. Even as vaccines roll out this year, this trend isn't just going to plateau, and then eventually decline. Quite the contrary, in fact. Many experts believe that online grocery sales will easily surpass $100 billion in 2021.
There's no doubt, we all like things quicker, safer, and simpler. When it comes to online grocery shopping, convenience is key. Many stores now offer curbside pickup and grocery delivery apps that give shoppers a wide variety of options and incentives to order their groceries online. According to eMarketer, a large portion of first time online grocery buyers prefer shopping online and will continue to do so simply because of convenience.
Trends We're Seeing
As we look ahead, it appears that grocers will focus on efficiency, safety, and improving the overall shopping experience. Grocers are investing in order technology and moving toward dedicated spaces to optimize order procurement efficiency. Loyalty programs, like Hy-Vee Plus, offer free delivery and shopping services, making it easier for shoppers to move their loyalty from previous go-to grocery stores.
Giants like Walmart and Amazon will continue to leverage the online grocery shopping landscape, capitalizing on consumer behavior changes and emerging channels. Amazon eliminating Fresh's monthly fee for Prime members is definitely making an impact on US markets. From here on out, grocers will strategically manage their gains for long-term growth. Instead of looking to add more servers and delivery drivers, grocers will focus on efficiency and make online shopping a better experience.
That being said, here are a few examples of top eCommerce platforms promising to shape the grocery industry in 2021…and beyond.
Instacart
Instacart is one of the most successful online grocery shopping services, surpassing even Walmart in popularity. Instacart, with revenue topping $1.5 billion, is the country's leading grocery delivery app. In 2020, Instacart's growth was simply phenomenal, not only compared to Walmart, but also in relationship to competitors like Shipt, Amazon, FreshDirect, and Peapod. Founded in 2012 by former Amazon engineer Apoorva Mehta, Instacart's mission was to help brick-and-mortar grocers become successful online. Since then, the company has expanded rapidly into new markets and launched new features designed to make grocery e-commerce irresistible to consumers. Instacart's delivery services allow customers to shop from a growing number of trusted local retailers and grocers from the comfort of their home, using a computer, tablet, or smartphone. Instacart's growth can be attributed to its business model, which draws from other major retailers like Costco, Albertsons, Kroger, and hundreds of other stores. There are now 500,000 Instacart shoppers cruising more than 45,000 stores across the U.S. and Canada.
Amazon Fresh
For years, Amazon has worn the crown as king of eCommerce. Through all of their successful ventures, grocery is Amazon's fastest-growing category. Amazon Fresh is all about convenience, technology, and keeping prices as low as possible. The incredibly popular platform delivers groceries right to customer's doors and provides a pickup service from select retail locations. Since opening its first store in 2020, Amazon Fresh has also added 11 stores and at least 100 locations are set for development. Amazon Fresh has far less locations than places like Costco and Walmart, yet it's rapidly expanding services to offer a seamless online to in-store experience. New stores feature digital price tags, smart dash carts that track groceries as they are put inside, and Ask Alexa stations, where shoppers can get help with anything they need.
Walmart
Even before the pandemic, Walmart recognized the importance and opportunity of online grocery shopping and pickup services. Since March 2020, Walmart reported tremendous sales growth in the online grocery segment. Second quarter eCommerce sales soared 97%, an increase attributed to online grocery shopping and more people cooking from home due to COVID-19. In a recent survey, 56% of respondents cited Walmart as their retailer of choice when it came to buying groceries online. Since demand is expected to outlast the pandemic, Walmart recently announced plans to expand its use of high-tech systems that quickly pick and pack online grocery orders. Across the nation, Walmart now offers grocery pickup at over 3,400 locations and same-day delivery at more than 2,700 stores.
Kroger
Kroger is the nation's largest grocery chain and now one of the top U.S. eCommerce retailers. With more than 2,200 pickup and 2,450 delivery locations, Kroger has increased customer demand for e-commerce during the pandemic. Kroger reaches 98 percent of customers with a seamless shopping experience centered around ordering, pickup, delivery, and ship-to-home service. In 2018, the company announced plans to build a network of robotically-run fulfillment centers. This year, Kroger will begin to open those facilities, potentially giving the supermarket an advantage in handling the accelerated pace of e-commerce orders the industry is currently experiencing.
Shipt
Bringing the store right to your door, Shipt is a simple, same-day delivery service of groceries and other household essentials. Today, Shipt is one of the leading grocery shipping services. Acquired by Target Corp in 2017, Shipt allows customers to browse millions of fresh grocery products, household items, and more from stores like CVS, Harris Teeter, H-E-B, Meijer, Petco, and of course Target. Customers shop from neighborhood retailers and a 'Shipt Shopper' handpicks and delivers selected items (without personal contact), in two hours or less. There are two membership options customers can choose from to use the Shipt service: a yearly option for $99 that allows unlimited orders or a monthly option at $14 per month. Shipt customers pay no delivery fee on orders of $35 or more.
Thrive Market
Thrive Market is an online grocery experience that sells food and home products that are 'good-for-you and good-for-the-planet'. The company delivers a 'Whole Foods'-like organic vibe with a structured, positive business model. Thrive allows shoppers to create a personal grocery store customized to their special dietary needs and preferences. Thrive Market makes shopping simple, offering about 5,000 carefully selected items from brands that are mindful about people and conscious of the environment. Tremendous sales have resulted from four converging pandemic trends: healthy eating, online grocery, subscriptions, and personalized shopping. Already experiencing impressive 40% year-over-year growth, Thrive Market nearly doubled its business in 2020 with sales up 90%.
Whole Foods
Since 1980, Whole Foods has been a world leader in natural and organic foods. Founded by John Mackey, the company helped fuel the organic food movement. By stocking natural products and setting high-quality standards, the chain drew a loyal fan-base and made wholesome foods accessible to millions around the world. As Amazon acquired Whole Foods in 2017, a clear priority from the beginning was online ordering, a push that only accelerated when the pandemic sparked an unprecedented spike in online grocery orders. Whole Foods online delivery and pickup is now through Amazon Prime. With a Prime membership, customers get free 2-hour delivery and free 1-hour pickup.
Peapod
As one of the longest running grocery delivery services, Peapod is a platform that proudly acts as its own supermarket. Rather than having physical locations, all items available through the app are stored at a centralized warehouse. When online orders are complete, grocery items are brought directly from the manufacturer to your door. Fresh, simple, and fast, this process cuts out the middleman, which means customers get their items at lower prices too. Even 30 years later, the PeaPod business model is still as fresh and relevant as ever.
FreshDirect
Established in New York City, FreshDirect is one of the earliest online grocery delivery services in the United States. During the pandemic, the company reported a 60% increase in sales from the previous year. What makes FreshDirect stand out is their commitment to organic vendors and the elimination of middlemen in the supply chain. The company was an early proponent of the move towards food sustainability and rapidly grew in popularity by catering to socially-conscious consumers. FreshDirect focuses on reducing the time it takes for food to move from its source to the consumer by buying directly from farms, emphasizing organic food and locally grown items. FreshDirect also delivers numerous kosher foods and is recognized as a certified sustainable seafood vendor.
The pandemic of 2020 forever changed our world, especially the way we shop for food. Brick and mortar grocery stores remain, but for how long they stand as a successful and thriving business model may be the bigger question. It's a new day. The age of online shopping will thrive well beyond the age of COVID, and by example, a few eCommerce platforms will continue to lead the way.
Published on .