Digital Strategy, eCommerce Website & Marketing
Little Giraffe - Love
Premier luxury baby blankets brand Little Giraffe partnered with Cuker to develop a digital strategy to help grow the brand online, build direct sales, and support their retail channel.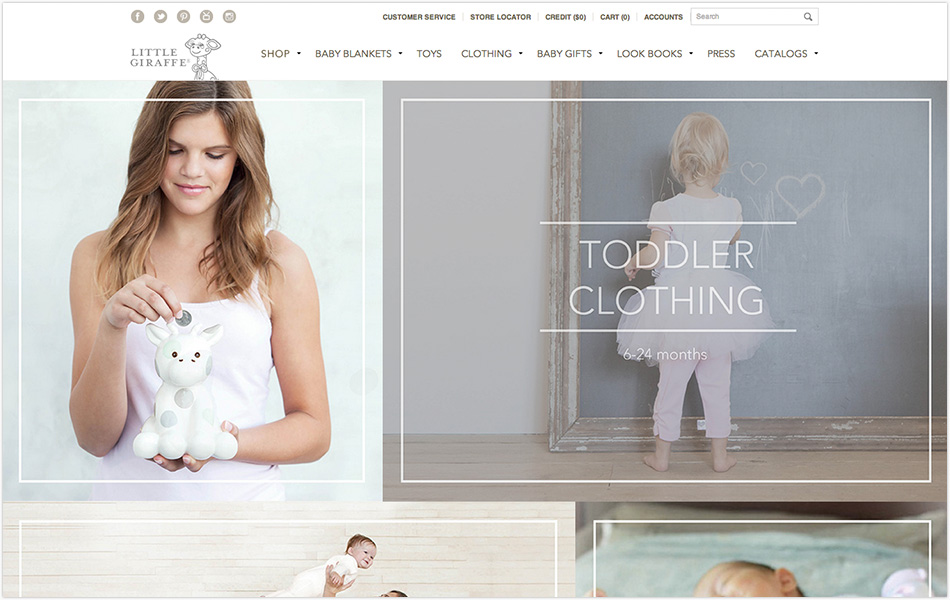 We started by designing a digital communications strategy that would broadcast the luxury product line. On the web it is easy for a small photo of a blanket to look very similar to other blankets of lesser quality. So, we focused on lifestyle imagery to evoke an emotional response from our audience to drive them to engage with the website and the brand online. Our UX team designed an intuitive navigation and eCommerce experience, adding in informational interactive features that help communicate the differences in products in their extensive catalog. We also implemented an interactive dealer locator to drive customers to retail locations to buy Little Giraffe products.
After developing a successful website and eCommerce platform, we partnered to grow the brand online, build their email list, optimize their email strategy for mobile deliverability, and developing a search marketing strategy to grow online sales. We captured #1 rankings in google organic search for baby blanket terms, and significantly increasing the volume of traffic to the website. We also launched a paid search campaign that is driving sales growth for Little Giraffe.
By developing the premier website in the Baby Blankets category and implementing an integrated digital marketing strategy, we have helped grow the online sales by 30% in the last 2 years. The Little Giraffe Website has also won Marketing and Design Awards from the OMMAs, WMAs, and Daveys.